Looking for new customers?

Let's build a Sales Lead System that generates
a steady stream of qualified leads every week.
Download our FREE report, Generating Sales Leads
Direct Response Marketing Programs for Small Business & Non-Profits
Let's build a 'sales-focused' program with direct mail, email and online advertising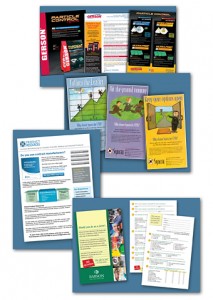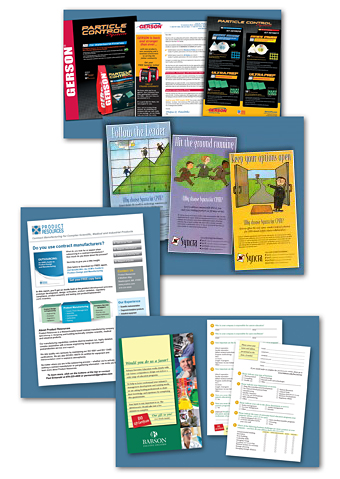 Are you frustrated with your marketing?
Do you rely too much on referrals?
Would you like to see a more direct connection between your marketing investment and sales results?
Do you have difficulty tracking performance of your various marketing programs?
If you're like many small business owners or non-profit directors, you know how much attention marketing requires – and you simply don't have the time to address it.
We can help.
We've been creating direct response programs for more than 30 years – first with direct mail and print, and now also with email and online advertising.
We can help you build an integrated program using a mix of these online and offline marketing activities.
We're a small business too.
Every business has to find its place in the market – and we have found our place working with small business and non-profits.

My name is Bob McCarthy.  My partner, Sheryl King, and I started this business back in the early 90's as a freelance copywriting team. We still write copy but most of our work involves full-service projects that provide our clients with a one-stop shopping experience.
When you work with us, I will be your chief contact.  I will develop your strategy.  Sheryl and I will write your copy.  And I will manage your programs.
We are not alone of course. We have other writers, graphic designers and web specialists to help with specific projects as needed.
We also work with third party services like email service companies, printers, mail houses, list companies, landing page services and online advertising platforms.
But I will be your point person for these services.
We create marketing programs that make sense for you.
If you want to use direct mail, we can help you plan, create and execute direct mail campaigns for lead generation, direct selling, retail store sales and fundraising.
If you want to use email, we can help you create drip email sequences and solo email blasts to your targeted email lists.  We can also help you build those targeted email lists for both lead nurturing and lead prospecting.
If you want to use online advertising, we can help you build your online presence with paid search, display advertising and remarketing on Google and Facebook.  We will work with to continually improve your cost per click and cost per conversion.
If you want to use marketing surveys, we can help you develop direct mail and/or email surveys to generate leads and conduct market research on your target audiences.
These are our core services, but that's not all we offer …
For many organizations, there's so much more to do than just the big projects.  You have other responsibilities that can often take over a big part of your day.
When we work with clients, we are often asked to help out with these day-to-day needs.  So if needed, we can help you with:
Website Updates.  We have extensive experience with WordPress websites and can assist you with updates, revisions, reorganization, new pages or blog posts, improved optimization and improved lead capture.
Lead Magnets. The key to direct response is the use of lead generation offers including lead magnets.  We can work with you to develop informational lead magnets to meet your sales process goals.
Landing Pages. Every campaign should have its own landing page that is focused on that campaign.  We create and post landing pages either on your website or on third-party platforms.
Content Strategy & Creation.  If you're focused on inbound marketing, we can help you plan and create content for your website to build organic traffic and capture leads.
Local Search. If you're a local business selling to local customers, your SEO efforts should be focused on local search and getting your business to appear on a Google Map listing.
Social Media.  Social media is free but time consuming.  We use social media primarily to extend your message to a larger audience using only the appropriate social platforms for your audience.
Print Advertising.  It may be a little old-school, but print advertising still works for some businesses.  We believe in using direct response print advertising so you can generate immediate leads and measure your response.
Print Marketing Materials.  If you need printed materials for hand outs at trade shows or to be placed on display, we can help you create and print those materials.
Let's get started with a FREE Strategy Session
We would like to put together a marketing program for you – but first, we need to get acquainted and learn more about your business.
Contact me at 508-473-8643 or bob@mccarthyandking.com to arrange a FREE Introductory Strategy Session.
Bob McCarthy
"I've known Bob McCarthy professionally for over 25 years. He first helped us develop a B-to-B direct mail lead generation program for our software business. Within 90 days, Bob developed lead programs and internal scripts that allowed us to move from an expensive direct field model to a lower cost inside sales team approach.
"Our revenues increased while our costs went down."
Chuck Page, COO
Darling Consulting Group
==============================================================================