Professional Services Marketing: Direct Response and Digital Marketing
McCarthy & King Marketing offers professional services marketing programs by combining direct marketing and digital marketing to support the "new business" development effort of professional services firms.
We also introduce our Sales Lead System, an integrated marketing program for lead generation and lead nurturing.
Professional Services Marketing expectations
Direct Marketing
We will work with your business development team to:
generate a steady flow of new sales leads
nurture your existing leads with drip email and newsletters
cross-sell, up-sell and re-sell existing customers
build your reputation as an authority in your field
increase sales performance and shorten sales cycles
Digital Marketing
Using your website as the centerpiece, we will help you:
expand your presence on the web
develop content that gets you ranked by the search engines
generate traffic through organic and paid search
convert your website traffic into leads and sales
increase online visibility and reduce lead acquisition costs


How Professional Services Firms find new clients
Professional services firms use a variety of marketing strategies to acquire new clients.
They may speak at industry events – conferences, workshops, webinars
They may write articles and books on their area of expertise
They may develop a business development process – and maybe even a BD team.
How you sell is your business.  Helping you sell is ours.
We can help you in four main areas – with lead generation, lead nurturing, content marketing and collateral development.


Our Sales Lead System supports your "new business" development efforts
Whether you need an entire system or just pieces, we can work with you to develop a complete closed-loop Sales Lead System.
Lead Generation
Use direct mail, email  and digital marketing tactics to bring new leads into your marketing funnel.  Let us help you develop the right offers and strategies to deliver a consistent flow of new leads to your sales program.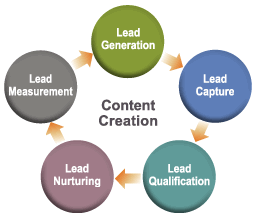 Lead Capture
Use landing pages (as well as PURLs and QR Codes) to capture online responses. Use call tracking services to identify sources of inbound telephone calls.  Automate entire response-handling process including data collection, email confirmation and offer delivery. Continually test different landing pages to improve conversion.
Lead Qualification
Use the phone (and online surveys) to contact all leads to determine need, interest, buying authority, budget and timing. Work with sales to determine an acceptable definition of a qualified lead. Establish a scoring system to determine when leads go to sales.
Lead Nurturing
Use email (as well as postcards) to stay in touch with all leads and build your reputation over time. Create separate email drip campaigns for each product/service, industry/application, job title/function, sales potential and/or level of interest. Develop emails and offers that inform, educate and engage.
Lead Measurement
Use lead tracking to determine response rates, conversion rates and order rates. Measure all metrics against costs to provide accurate comparison between media. Track leads through the entire sales process to determine cost of sale and return on investment.

Let's get started
To learn more or request an estimate, let's set up a time to talk.
Contact  Bob McCarthy at 508-473-8643 or bob@mccarthyandking.com