Let's take the guesswork out of
your marketing and advertising
It's obvious. isn't it? You're spending money on marketing and advertising. You expect to see results from that investment – in the form of leads, phone calls, appointments, quote requests and sales. And you expect to see those results across all marketing channels.
We are direct response specialists, and we can help you bring measurable marketing to your organization.
We've been doing this for more than 30 years, working with all types of organizations – B2B, B2C and Non-Profits. We'd love to work with you too.
Track your response across all channels
Direct response is often associated with direct mail marketing, but in fact, it can and should be applied to all your marketing activities.
Marketing channels vary, but they can all be measured for performance in terms of cost-per-lead, cost-per-appointment and cost-per-sale.
When you track response from all your marketing campaigns, you can see precisely which campaigns are working – and which are not.
Build an end-to-end marketing system
The most successful marketing campaigns are those that are built as part of a marketing system – one the incorporates multiple tactics and activities to move prospects along the sales process.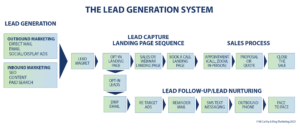 In most cases, it begins with a lead generation activity (using Google, Facebook, Display Ads, Direct Mail or Email). But the real key is having in place a process for following up and nurturing those leads.
We offer a package of services that include a lead generation activity plus phone/lead tracking, a three-step marketing funnel, follow-up drip email, long-term evergreen email, retargeting ads to website visitors – all of which is integrated with your CRM.
Or choose a marketing project
We offer these as individual projects or as part of a larger integrated marketing program.
| | |
| --- | --- |
| Direct Mail | Websites |
| Email Marketing | Marketing Funnels |
| Search Ads | Retargeting Ads & Email |
| Digital Ads | Lead Magnets |
| Local SEO | Video Interviews |
| Global SEO | Coaching & Consulting |
Let's start with a chat
If it looks like we can help you, let's get acquainted. Just a brief chat would do – maybe 15 or 20 minutes. Click here to schedule a call (or Zoom meeting). Or call 508-473-8643 (M-F/9-5/Eastern).
"I've known Bob McCarthy professionally for over 25 years. He first helped us develop a B-to-B direct mail lead generation program for our software business. Within 90 days, Bob developed lead programs and internal scripts that allowed us to move from an expensive direct field model to a lower cost inside sales team approach. Our revenues increased while our costs went down."
More resources from our Direct Response library
Download any one or more of these FREE guides