Direct Mail for Political Campaigns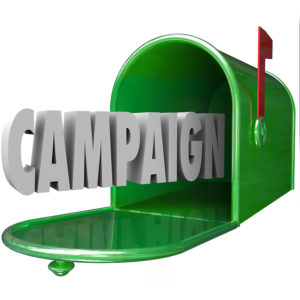 Planning a run for office?  First, congratulations and best of luck.  Your willingness to step up and be counted is to be applauded.
Now, how will you get your message out?
If direct mail is in your plans, we're here to help.  We can provide you with everything you need to reach your target audiences – whether you're planning a large scale voter mailing or a targeted fundraising solicitation.
We offer a full-service program that includes your lists, design, printing and mailing services.  You prepare your message and leave the rest to us.
For estimates or to discuss your campaign, call 508-473-8643.

Choose from many formats and many applications
Direct Mail Campaigns
Letter Mailers
Letter mailers are a great way to introduce yourself as the right candidate for the job.  Use the letter to explain who you are, why you're running for office and how you will be the right candidate.  Then add an insert – a handout card, your biography, a position paper, a newspaper article, an endorsement sheet or anything you feel is relevant.  If you want a response from volunteers or donors, add a reply card. Use a standard #10 envelope or a larger 6×9 envelope.
Letter Only
Letter with Insert(s)
Postcards
Postcards are simple, direct, affordable and eye-catching.  Use them to get your message out quickly to everyone in a household.  Because it's delivered without an envelope, everyone sees it.
Large (6×11)
Medium (5.5×8.5)
Small (4×6)
Self-Mailers (no envelope needed)
If you need more space, self-mailers may be your choice.  Let your message dictate how much space you'll need.  Self-mailer are effective formats for providing more details on your positions.
Two-Panel with Tear Off Reply Card (6×24, folds to 6×10 plus 4×6 reply card
Three-Panel Folded Mailer (9×12, folds to 9×4)
Four-Panel Folded Mailer (9×16, folds to 9×4)
Every Door Direct Mail
EDDM, also known as Every Door Direct Mail, is a special direct mail program from the US Postal Service designed for candidates who want  to reach everyone in their district.  While most direct mail campaigns focus on individuals from a particular party, or voting history or some other demographics, EDDM reaches everones for saturation mailings.  The advantage is larger mailers at a lower cost.
Single Panel Postcard (8.5×11)
Two-Panel Postcard (11×17, folded to 8.5×11)
Fundraising/Event Invitations
When it's time to invite your supporters to a fundraising event or simply ask for donations, these two formats
6×9 Mailer with Invitation, RSVP and Reply Envelope
Fundraising Letter with Donation Form and Reply Envelope
For a FREE estimate or to learn more, call 508-473-8643.
Printed Materials
Pass-Along Postcards
These are small postcards you can use to pass-along to your supporters and ask them to send to their friends and family.  The postcards are designed with your message, but leaves room for supporters to write in their own message if they choose.
Hand Cards
Hand cards have many applications.  Use them as handouts for all campaign events, at all public presentations or while going door–to-door.
Jumbo Hand Card – 4×10
Jumbo Hard Card with Reply Card – 4×12 with 4×6 Reply Card
Standard – 4×8 (fits in a standard #10 envelope)
Door Hangers
Remember, you can't leave your literature in the mailbox … so use a door hanger instead.  If you want some type of response, add a reply card to your door hanger.
Door Hanger – 4×10
Door Hanger with Reply Card – 4×12 with 4×6 Reply Card
For a FREE estimate or to learn more, call 508-473-8643.
Other Factors to Consider …
Mailing Lists
Who do you want to reach within your District?  You have many choices.  Here are just some of them.
Every Individual
Every Household
Every Individual or Household with Demographic Overlay
Every Registered Voter
Every Registered Voter with Party Affiliation
Recent Voters
Consistent Voters
Your Own List of Supporters and/or Donors
Calls to Action
What do you want people to do?
Volunteer
Donate
Join our mailing list
How do you want them to respond?
Send back a reply form
Call our office
Visit our website
Scheduling
How much time should you plan to get your mailer delivered
Production – Design – Week 1
Production – Print – Week 2
Production – Address/Mail – Week 3
Delivery – First Class – 3-5 days
Delivery – Standard Class – 1-3 weeks  (in Northeast, 1 week is likely)