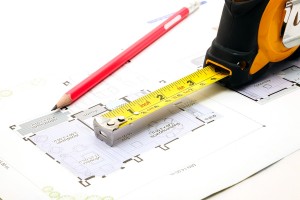 I am not much of a handyman.
In my house, if something needs fixing, the go-to people are my wife and my daughter.  At Christmas, I give them tools for gifts.
In fairness to me, I do change light bulbs and twice a year, I install and remove our air conditioners.
So you can only imagine the fear and trepidation that occurs in my house when I need to cut something – with (eek) a saw.  I mean how many mistakes can one person make on  a single piece of wood?
You're probably familiar with the old carpenter adage "measure twice, cut once."
For me, it's measure 10 times, then ask your wife to check your work.
Which brings me to my point …
When you're planning a direct mail campaign, think about the pieces you're going to print, specify their exact dimensions and MAKE SURE EVERYTHING FITS.
I could call this post "Learn from my mistakes" because I have made many of the direct mail mistakes below.
Direct Mail Mistake #1.
The standard #9 business reply envelope won't fit into a 6×9 envelope.
Reply envelopes are about the last thing any of us think about when planning a direct mail campaign.  And the standard BRE is a #9 envelope which fits very nicely into a standard #10 envelope.
But when you move to a 6×9 envelope, the 9-inch width is too close to the 8-7/8-inch width of the #9. It fits if you work it in by hand, but it's too wide to go in by machine (which usually needs a quarter-inch clearance).
You should go with a larger outer envelope (6×9.5) or a smaller reply envelope (many choices).
You may be asking "why can't you just fold it?"  Well, you can, but that's an extra step which will cost you money, and for some mail houses, this may require hand-inserting (which will cost you more).
I've made this mistake myself and I found that reprinting to a smaller envelope was a better financial option.
Direct Mail Mistake #2
Window envelopes provide a good economic option for personalization.  You personalize the inside reply card and have it show through the window.  This eliminates the need for a separate addressing of the outer envelope and the much higher cost of having to make sure the reply card and the envelope are matched.  You simply address the reply card, slip into the window envelope and you're done.
As discussed above, the reply card needs to be designed to fit into the outer envelope – and be machine insertable.  At the same time, the reply card needs to be large enough so that it doesn't move around inside the envelope.
If the reply card is too small and moves around too much, the address could actually disappear from the window.
Direct Mail Mistake #3
When you are using a reply envelope, you usually also have a reply slip which the recipient needs to fill out before sending it back.  In the two examples above, we were worried about making sure everything fit in the outgoing mail, but in this case, we want to be sure it fits in the reply mail.
If the reply slip is too big for the reply envelope, it's not a major problem because most people will know enough to fold it and send it back.  But some may wonder if they are doing something wrong – and so they hesitate, and put it aside for another time.
This becomes worse if the reply slip is on a card stock that does not fold cleanly.
Don't give your recipients any reason to hesitate or question their actions.
Direct Mail Mistake #4
The post office can mail pretty much anything – if you're willing to pay for it.  But they have established very specific dimensions and weights for different types of mailers.  Generally, mailer types fall into three categories – postcards, letters and flats.
Don't be fooled by these three category titles.
Postcards doesn't mean all postcards.  To mail at the "postcard" rate (34 cents in 2014) your postcard must be no larger than 4-1/4 x 6 inches (and no smaller than 3.5 x 5 inches).
If your postcard is larger than 4-1/4 x 6 inches, you will pay the "letter" rate (49 cents in 2014).
Just as with postcards, letters doesn't just mean letters.  Letter rates apply to letter packages, self-mailers and postcards that are no larger than 6-1/8 x11 inches.
If your mail package (of any format) creeps over these dimensions either way, you will be moved into the "flats" category and face a much higher postage rate (98 cents in 2014).
Direct Mail Mistake #5
The weight of your direct mail package is also a concern – more of a concern for first class mail than for standard (bulk) mail.
The rates shown above in Mistake #4 are for first class mail of up to 1 ounce in weight.
(In case you're wondering: in a standard letter package, one ounce would equal the combined weight of an outer envelope, a 1-page letter, a reply slip and reply envelope.  A brochure would probably push you over 1 ounce.
If you go over one ounce, you will be charged an additional 21 cents per ounce – for both the letter and flat mailer.
Exception:  If you pre-sort your mail (which usually requires a mail house), the post office will waive the surcharge on the second ounce.  This means you will pay the same rate up to 2 ounces.
This additional-ounce surcharge only applies to first class mail.  Standard (bulk) mail maintains the same postage for up to 3.3 ounces.
—————–
The mistakes above all survivable.  They are not going to kill your campaign.  But they will add to your costs and they will delay your delivery.
Oh, and they only represent a small fraction of what could go wrong.  Good luck.