Direct Mail Postcards and Postcard Campaigns

McCarthy & King Marketing is a central Massachusetts direct marketing ad agency that creates and produces direct mail postcards and full-service postcard campaigns
Why postcards?
Typical Sizes of Direct Mail Postcards
Postcards can be any size you want, but the size you select will impact both your postage rate and your printing costs.
Postcard Rate Postcards
To qualify for the discounted Postcard Rate, a postcard must ber at least 3-1/2 x 5 inches and not exceed 4-1/4 x 6 inches.  These smaller postcards are best suited for reminder mail and for simple, easy-to-understand promotions.
Letter Rate Postcards
Letter Rate Postcards are all postcards that larger than 4-1/4 x 6 inches and no larger than 6-1/8 x 11-1/2 inches.  Typical sizes are 5-1/2 x 8-1/2, 6 x 9 and 6 x 11.  These are the most common types of promotional postcards.
Flat Rate Postcards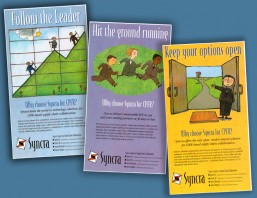 Flat Rate Postcards are all postcards that exceed 6-1/8 x 11-1/2 inches.  Because of their size, they do get noticed, but you will pay a premium in postage for this added size.
Postage Savings with Postcards
The US Postal Service has established a special reduced postage rate for postcards up to 4.25 x 6 inches in size.  Compared to the normal 44 cent first class postage rate, smaller postcards can be mailed for just 28 cents per piece.   However, if the postcard exceeds the required dimensions – even by a small amount – the postage cost will revert to 44 cents.

Typical applications of Postcards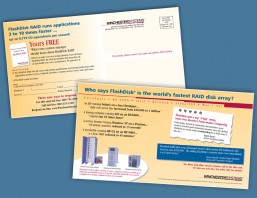 Postcards have limited space for your marketing message.  Even large postcards are unable to deliver anything but a short, simple message with a low-commitment offer.
But the simplicity of postcards offer other advantages.  Because they usually deliver a single message and do not need to opened to be viewed, postcards are increasingly popular.
This is especially true for retail traffic building, lead generation and lead nurturing applications.
Direct Mail Strategic Planning Services
Mailing list research/database development
Offer strategy and development
Format selection
Testing strategy
Personalization planning
Response channel planning
Sales process/distribution channel integration
Budget development
Back-end (post-response) planning
Response analysis and adjustment

Direct Mail Production Services
List acquisition
Data processing/merge-purge
Printing
Lettershop and mailing services
Personalization
Reply mail processing
Landing page creation
800 number selection