Direct Marketing
Generate sales leads and find new customers with direct mail marketing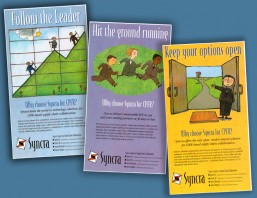 McCarthy & King Marketing offers complete direct mail marketing solutions – strategy, execution, analysis and follow-up – through a variety of service options.
We combine proven direct response techniques and methodologies with professional-level creative and production to meet our clients' sales objectives and maximize both response quantity and quality.
Since 1984, we've been developing full-service direct marketing projects and programs on behalf of dozens of business clients.
Our work serves multiple objectives: to generate sales leads, sell direct, increase website traffic, find new retail customers and build brand awareness.
We take a comprehensive approach that includes list research, offer strategy, message development, format selection, creative concepts and development, printing, personalization, mailing services and follow-up strategy.
We also provide complete back-end support with landing pages and autoresponder emails.
To learn more, contact Bob McCarthy at 508-473-8643 or bob@mccarthyandking.com.
Service Options:
Direct Marketing Projects
Direct Marketing Programs
Direct Marketing Consulting
Direct Marketing Copy & Creative
Direct Marketing Coaching
******************************************************
[break]
Read our Case Studies
Read our Articles