Direct Marketing – Direct Mail, Cold Email, Lead Surveys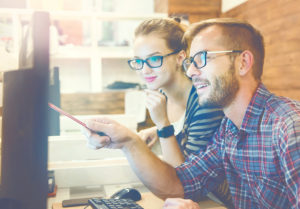 Direct marketing is one-to-one marketing that combines precision targeting, persuasive messaging and measurable response.
We use Direct Mail and Cold Email to reach out to target prospect audiences as a way to generate top-of-funnel leads, inquiries and first-time buyers.
Lead Surveys – using both direct mail and email – are very effective for generating leads and gathering data about your prospects.
Direct Mail
It may be a little old-school, but it's still going strong … still having an impact for companies wanting to generate leads, order, traffic, subscribers and donors.
We've been creating direct mail campaigns for more than 30 years for every industry sector and application.  We offer every type of direct mail format – letter mailers, letter/brochure mailers, postcards, self-mailers, long-form mailers and more.  Part of our service is to help you select the right format for your particular needs.
Our full-service programs include everything – mailing lists, offer development, creative services, print/mail/postage, testing and response channel setup.  For those who want to handle campaigns on their own, we offer consulting and coaching services as well.
Cold Email
Email has become the most popular tool for reaching people directly.  It's fast, it's easy and it's affordable.
But not all email is the same.  If you are reaching people you already know you, you are using opt-in email, something we highly recommend (see Drip Email under Funnel Marketing).
But if you want to use email to find new prospects – to reach people for the first time – you need this very special form of email called cold email.
Cold email uses outside (third party) email lists to reach your best prospects – based on demographics and interest profiles.  We can help find and acquire the right email list for your campaign or ongoing communication.
For creative services, we develop short, highly focused emails for cold email prospecting.  This may include a series of four, six or emails each focused on key selling point.
Our full-service campaigns provide list research/acquisition, creative services, email deployment and landing page creation/hosting.
Lead Surveys
Information is power – especially in sales and marketing.  The more you know about your audience and individual members of that audience, the more effective you will be in your sales approach.
Lead Surveys give you that information.
We develop Lead Surveys around the needs of your sales representatives – asking questions they would ask as part of their own lead qualification process.  When prospects respond, they will tell you through their answers whether they are a good fit for your product or service.
Lead Surveys may be used in both direct mail and email.
What to expect from our Direct Marketing campaigns
Strategic Planning
Audience Profiling
List Research/Acquisition
Offer Planning/Development
Format Selection (Direct Mail)
Creative Services
Print/Mail Production (Direct Mail)
Response Channel Planning
Email Deployment (Email)
Testing Strategy
Results Tracking & Adjustment
Let's talk about your plans
If you're considering a direct marketing test campaign, or would like to create an ongoing direct marketing program, let's talk.
Please contact Bob McCarthy at 508-473-8643 or bob@mccarthyandking.com.