Thank you for your order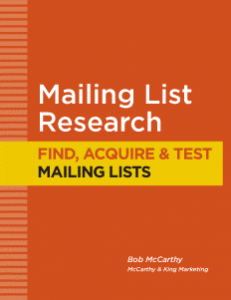 Click on the title below to download:
Mailing List Research: How to Find, Acquire and Test Mailing Lists
If you have any trouble downloading the file, please contact me immediately at bob@mccarthyandking.com or 508-473-8643.
Thanks again – Bob
Need help finding lists?
After you read my eBook, I hope you have a better understanding of the entire mailing list selection process,
I hope you can see now that finding the right mailing list is more of a process than a recommendation.
I can help you with this process.  Click here to learn more.
Ready for some more direct marketing eBooks?
Please note your payment will be processed through PayPal, but you do not need to be a PayPal customer to use it. On the order form, click on the second option (Pay with a debit or credit card, or PayPal Credit) and then follow the usual process. When you complete the transaction, click on the link that says "Return to McCarthy & King Marketing, Inc." and you will be taken to a dedicated page where you can download the book. 
PDF format
38 pages
$10

PDF format
36 pages
$10