Every Door Direct Mail – simple, affordable direct mail for local business
McCarthy & King Marketing can help you produce your own Every Door Direct Mail campaign targeting your local neighborhoods.
In 2011, the US Postal Service introduced Every Door Direct Mail (EDDM) as way of making direct mail easier and more affordable for the local business owner.
With reduced postage and a simplified mailing process, EDDM is an excellent choice for local restaurants, retail stores and other local businesses whose customer base is primarily local residents or businesses.
Is Every Door Direct Mail for you?
Every Door Direct Mail will work for you if everyone in your local neighborhood is a potential customer.
It will not work for you if, instead of reaching everyone, you need to target your message to individual households based on a demographic profile (income, age, family size, etc.).
Why EDDM?
Direct mail has always been a good choice for local businesses – especially retail stores and restaurants.  Now, Every Door Direct Mail makes it an even better choice.  Here's why:
just 14.5 cents postage (subject to change)
no mailing list needed
no mailing services needed
target your local neighborhoods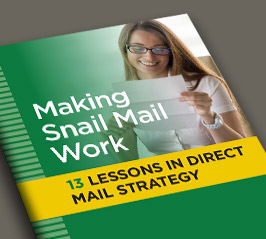 How Every Door Direct Mail works
Step 1 – Pinpoint your target market
Using the Postal Service's website, you need to identify which zip codes and neighborhoods you want to target.
Step 2 – Determine mailing quantities
Based on your input, the website will produce for you a list of carrier routes covering your target market.  Each carrier route will have a specific quantity.
Step 3 –  Design mailer
EDDM has some very specific design requirement for your mailer.
Step 4 – Include EDDM indicia
While your mail piece does not require a mailing list or any personalization, it does require an EDDM indicia which will appear on each piece in the address box area.
Step 5 – Print and prepare for Post Office
Although no addressing or mailing services are needed, you will need to have your piece printer in quantities that match the mailing quantities from Step 2.
Step 6 – Deliver to PO
Your printed pieces are then delivered to the local post office in specific lots for each carrier route.  You will also need to produce the required paperwork.
Request an EDDM Target Market Report
On one level. EDDM is designed for the do-it-yourself marketer.  But you can also enjoy its benefits if you outsource your direct mail projects to companies like ours.
If you're thinking about trying Every Door Direct Mail, let us run some numbers for you.   Contact Bob McCarthy at 508-473-8643 or bob@mccarthyandking.com so we can pin down your exact market area.
Then we'll send you a report outlining exactly how many contacts in your target market.  We'll also provide you with an estimate for creating your mailer and getting your mail out the door.
If you'd like to discuss an upcoming campaign – or if you're looking for ways to improve an existing mailing program – call us and let's schedule an introductory call.