Direct Mail Offers

The Secret Sauce of Direct Response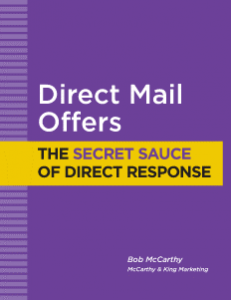 Discover the power of the direct mail offer. 
In real estate, it's all about location, location, location. In crime, it's means, motive and opportunity. In direct mail and response marketing, it's audience and offers.
If you're using or planning to use direct mail or any direct response marketing, you need to know about offers – and this ebook will help you.
You'll learn:
how and why offers determine both response quantity and quality.
the various types of offers and when they should be used.
how to adjust your offers to fit your sales goals.
how offers can help you predict your response.
how to present your offers.
how to use offers in direct response channels.
Direct Mail Offers is now available on Amazon Kindle