For the longest time, direct mail has been used as a first-touch marketing channel – reaching out to prospects to generate sales leads, direct orders, memberships, subscriptions and donations.
The process typically involves:
renting or buying a mailing list,
developing an offer that fits the objective,
creating a mailer that persuades the prospect to respond to the offer,
building in multiple response channels,
pulling together all the resources to get your mailer printed, addressed and mailed,
and tracking response and making adjustments for the next mailing.
For many companies and non-profits, this marketing strategy continues to work very well.
But many other organizations have moved to online marketing – paid search, online advertising and organic/content marketing… so this idea is for them.
What if you moved direct mail to the second spot?
What if instead of using direct mail as a first-touch marketing piece, you moved it into the second spot of your sales process – and simply sent out the mailer after the lead comes in?
We call this fulfillment mail and it's designed to go out on- piece-at-a-time to those who had previously responded to other promotions.
This is not a new idea.  Since long before the Internet, fulfillment mail has been used in response to leads that come through print, TV, radio, trade shows and even lead generation direct mail.
Now with so many businesses using online marketing, why not apply the same strategy?  You get a lead through your website or landing page, you ask if they would like to receive an information kit by mail and you send it out.
You're only adding a few dollars per prospect, but think about the impact.
Once you get that lead, give them your best shot
You know the drill when it comes to online lead generation.  Someone fills out a form, they download your free guide or whitepaper, they get added to your drip email system and sometimes you follow up with a phone call.
That's what we recommend and implement for our clients.  It's a good, efficient system.
Problem is online and email communications, for all of its advantages, is like vapor.  It disappears as quickly as it reaches its destination.
Yes, it's fast, cheap and very efficient, but it has no shelf-life.
How to stand apart from your competition
So try this …
After you get your lead from online marketing, send them a fulfillment direct mail piece.  Send them something informative, personally relevant and professionally designed.
Send them a mailer they won't want to throw away – something they will actually sit down and read.
Give them your full sales pitch.
Remember these are interested prospects, demonstrated by the fact that they have already responded to your earlier marketing effort.
Now is your opportunity to stand apart from the competition, to gain more attention and to give your message some shelf-life.
Because you are only sending one mailer at a time, you can take the time to personalize and adapt your message to meet the needs of individual prospects.

Who could benefit from this strategy?
At first glance, you might think the ideal candidates for this marketing strategy would be businesses that sell large ticket items and/or have a long sales cycle.
But in fact, it doesn't have to be that large of a ticket item or that long of a sales cycle.
This strategy works perfectly with any multi-step lead generation strategy – for B2B, B2C or even some non-profit applications.
A few examples:
A college or university generates student inquiries through search and online advertising, but immediately sends out a full-scale direct mail package to those who have expressed a certain level of interest.  The fulfillment direct mail package could be customized to the student's academic interests and could provide a complete overview of the school's academic, housing, campus activities, social life and financial aid.
A home improvement company could find homeowners interested in remodeling or new home construction using online marketing, but then could use direct mail to impress these new leads with a catalog of its past work and testimonials from satisfied customers.
A business consultant publishes a monthly email newsletter for list of prospects who have voluntarily joined his list through a variety of marketing outlets.  For those who request it, he could also send out a professionally designed introductory information kit that outlines his process, his capabilities and his documented results.
A non-profit organization uses online advertising and its website to build a list of supporters – and hopefully, future donors.  As a way of introduction, each new supporter could receive a direct mail information kit with an overview of its cause, specific areas of focus, stories of those who have benefited from the non-profit's work and a donation form.
How is this different from other direct mail ?
You may wondering what is the difference between this and the direct mail you would send as a first touch marketing strategy.
Simple.  If you're using direct mail to generate leads, your mailer should be designed to tease the reader … to introduce a problem and to offer a solution which can only be obtained if they respond.  Lead generation mailers are typically shorter in copy and should not go into a lot of detail or explanation. Its primary goal is to generate a response.
With fulfillment direct mail, you already have the lead.  Now you need to tell your story as it applies to the reader.  A fulfillment mailer would be much more expansive – possibly with multiple inserts you can mix and match to each prospect.  The mailer might include a response mechanism for the next step in the sales process, but the real goal of the fulfillment mailer is to provide the reader with a more complete picture of what you do – and to set yourself apart from competitors.
What would your fulfillment mailer look like?
You have a lot of options here because you're not printing large quantities.  Yes, there are upfront creative development costs, but you only need to print enough to send out to your leads.
If this idea makes sense to you, let's schedule a call.  We'll take a few minutes to understand your company and your current lead generation process.  And then we can take a look at different ways to create your fulfillment package.
Contact Bob McCarthy at 508-473-8643 or bob@mccarthyandking.com.
found on Google (and other search engines) through organic search (not paid search).
By creating web pages, blog posts and other content on your website that strategically respond to specific keyword inquiries, Google will hopefully recognize the content and list the appropriate pages when someone searches with those keyword phrases.
This is called inbound marketing because your prospects come to you.  Contrast that with outbound marketing where you need to reach out to your prospects.
I combine the combine "content" with "inbound marketing" because content is the essential ingredient for generating inbound traffic.
How does content and inbound marketing work?
Without getting into the weeds, here's a quick overview of the process:
Step 1 – It starts with identifying the keyword phrases your prospects are likely to use when searching for a business like yours. In a way, the keyword phrases you select are actually questions your prospects are asking about the products or services you provide.
Step 2 – Using these selected keywords (or questions) as your guide, you now need to write articles, blog posts and other content around those phrases – that essentially answers those questions. This could mean dozens or even hundreds of articles and other content (such as photographs, infographics and video).
Step 3 – Content is then optimized for search – meaning each article is given its own page and uses the keyword phrases throughout the text. Meta description information (behind the page data) will also be optimized.
Step 4 – To let the world know about the new content, social media posts are used with links back to the website and the specific article.
Step 5 – When visitors come to the website, strategies need to be developed to encourage those visitors to join the email list or download a free guide.
Step 6 – Over time, the search engines take notice of individual web pages and blog posts – as well as your website as a whole – and will begin to list those individual content pages for specific keyword phrases.
You can see that content is the central element in this process – and that takes time.  Add to that, Google needs to index your pages and recognize your content before offering it up for certain search inquiries – and that takes even more time.
What about Paid Search?
Paid Search (using Google Adwords and others) is a faster, more reliable path to Page 1 on Google.
With Paid Search, your web traffic will be driven not by content, but by money.  If you're willing to pay, you can get listed quickly – often within a couple of days.
It's debatable whether Paid Search belongs under the inbound marketing umbrella.  It certainly meets the definition in that it generates traffic from people who are actively search for a business like yours.
But Paid Search is not an organic search exercise.   As soon as you stop paying, your listing comes down.
The good news and the bad news
If and when you get listed on page 1 of Google through organic search, the good news is you can expect a consistent flow of free traffic to your website for a long time to come – at least from that webpage or post, and for that specific keyword phrase.
To maximize your benefit from this traffic, you'll want to make sure you've done everything you can to convert that traffic into leads.
Now for the bad news.
Even if you do everything right, there's no guarantee you'll get a high-rank listing.  You're competing with many other businesses for the top spot – and you are always at Google's mercy.
If you are successful and are able to get ranked, it will likely take months, even years, to happen. And that's for just one keyword phrase.
Moreover, if you find some success, this approach doesn't have the ability to scale up.  You cannot simply turn up the pump to generate more traffic and leads.
Why an outbound strategy is also necessary
While content and inbound marketing is a worthwhile goal, many businesses can't afford to wait that long.
They need leads now.  They need sales now.
They need to reach out and connect with prospects directly using outbound marketing.  They need to interrupt people and let them know they have solutions to their problems.  Because if they don't do it, their competition will.
Outbound marketing is viewed as traditional (or old-school) marketing because that's how we did it before the Internet (although you could argue that Yellow Page marketing was pre-Internet inbound marketing).
Today, for outbound marketing, we use direct mail, email and advertising (both online and print) – and yes, we continue to use it to generate leads and acquire new customers.
A misunderstanding of costs
One of the chief selling points of inbound marketing is that you will get free traffic and free leads.
It's true that when you get listed for organic search, your listing will cost you nothing.  Your web pages will be listed based on the content you provide – not the amount you're willing to bid for a Google search ad.
But don't kid yourselves.
Inbound marketing isn't free.  It takes time to research and write all that content.  It takes time to edit and format your pages.  It takes time to promote your content on social media – and more time to prepare your website to convert visitors into leads.
And that costs money – unless, of course, you're going to do it yourself.
There are many content providers out there – ranging from low-cost providers that offer pre-written and pre-designed content to custom-developed content providers that require high retainers.
It's time for inbound AND outbound marketing
Building an organic presence through content and inbound marketing is a smart move.
How quickly you start seeing results is anyone's guess.  It will depend on your skill, your resources (internal staff or budget to outsource) and a little bit of luck.  But reality should tell you it's going to take a while.
In the meantime, and even later, outbound marketing will put you in touch with the people who buy your products or services – and can give you the results you need right now.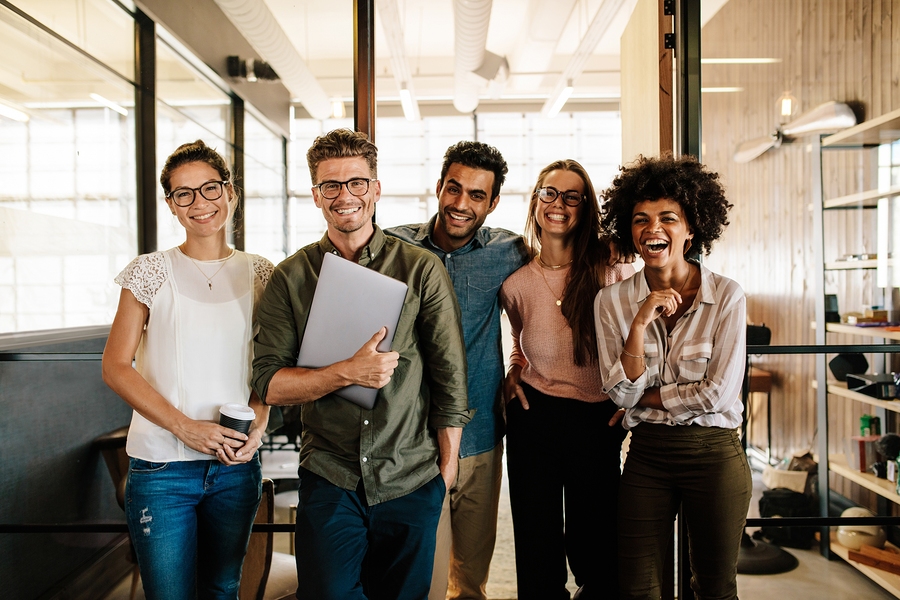 A Quick Word About Us
We create lead generation campaigns using Direct Marketing or Digital Marketing – and very often a combination of the two, which we describe as Digital Direct Mail.
Our campaigns include both Outbound Marketing (direct mail, cold email, phone) and Inbound Marketing (SEO, PPC, Local Search) as well as Lead Nurturing funnel activities.
If lead generation is in your plans, we invite you to download our FREE Guide, The Lead Generation Blueprint. Or click here to schedule an Exploratory Phone Call.