Direct Mail – Fundraising Mailers

When you need new donors and more renewals …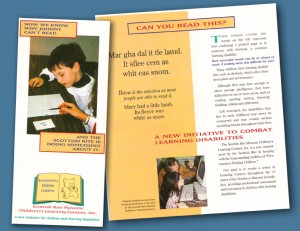 Direct mail continues to be a strong channel for non-profits in their efforts to raise money.
Even as other industries have moved online with their marketing, non-profit continues to produce strong results with direct mail.
We create fundraising mailers for both donor acquisition and donor renewals.
Most established non-profits focus on donor renewals because that's where the money is.  That's where you typically see a very strong return on investment.
A smaller investment of the budget should always be allocated to donor acquisition.  Donor acquisition generally doesn't produce any profit (break/even is your goal) but it does provide you with steady flow of new donors to replace those donors who leave you.
>>>>Also see Choosing a Direct Mail Format
The letter mailer is still king


Non-profit marketers may be tempted to try other formats, but most will tell you that the letter mail format is still the most productive of all direct mail formats.

Letter packages typically include:

#10 outer envelope (sometimes a 6×9)
2-page letter
brochure (optional)
donation form
reply envelope

Donor renewal strategies


Th.e main advantage you have with donor renewal mailings is familiarity.  Your donor base is familiar with you.  They know you.  They trust you. They want to give to your cause.

Just as important, you are familiar with them.  You know how much they give every year.  You know when they give, maybe even why they give.

This allows you to tailor your message, your donation "ask" levels and your timing to their preferences – based on their history.


Donor acquisition


Donor acquisition needs to be viewed as a necessary investment to continually bring in new donors.  It should not be viewed as a profit center.

Because donor acquisition mailings are reaching people who have shown no interest in your organization (yet), you have to assume the response rate will be low – very low, probably fractions of 1%.

When you add the cost of your mailing and calculate how much money you will bring in with a response rate of 0.5%, you can see why your expectations should be low.

However, every new donor you bring in is likely to donor again and again over time.  Each donor has a lifetime value that you need to consider as you try to evaluate your donor acquisition program.


Using premiums


One very common element in both acquisition and renewal mailings is the use of premiums – which are free gifts in return for the donation.

Often these premiums are used to encourage a minimum gift level.


Sometimes, premiums are sent out to everyone on a list to get their attention and generate a donation out of a sense of obligation.  These types of premiums – called front-end premiums – include mailing labels, decals and greeting cards.

Premiums that are awarded only those who actually give are called back-end premiums.

Premiums do improve response but they come with a cost that needs to be factored into the final equation.

Our creative services package

Review response goals and expectations

Review gift levels

Consider premiums


Specify appropriate mailer format

Develop central message for target audience

Create initial design with headlines

Write complete copy

Revise copy and layout

Deliver finished art to client or printer


We also offer ..

List research and list acquisition

Printing, personalization and mailing services

Landing page creation and hosting

Automated drip email series for follow up

Learn more or request an estimate
To learn more about fundraising mailers, contact Bob McCarthy at 508-473-8643 or bob@mccarthyandking.com.
Or fill out the form at right and we'll reach out to you.