Download our FREE Google Display Chart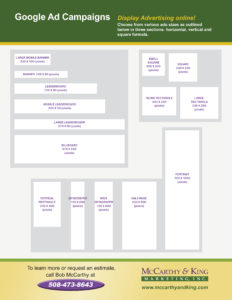 Google ads can be created in two ways – as text ads and as image ads.
Text ads are simple and straightforward – a headline, two lines of text and a link.
Image ads can be created for the Google Display Network as part of a Display/Banner ad program or a Remarketing program.  Image ads are not available for Search.
If you want to use image ads (display or banner ads) on the Google Display Network, you must conform to one of 15 different ad sizes.  You probably want to create your ad in multiple sizes to maximize your exposure.
Here's chart to show you the ad size options that are available.
Just fill out this form and download this chart immediately.
If you're not familiar with Google Adwords or Google Advertising, let back up a bit.
Google provides every business – even the smallest business in the smallest town – the opportunity to advertise online.  Instead of advertising on individual news sites or websites in your area, you can place your ad on Google and expand your exposure.
Pay-Per-Click
Google advertising is pay-per-click (PPC) advertising which means you only get charged when someone clicks on your ad.  This reduces your risk from traditional advertising where you have to pay in full with no promise of response.
Local Targeting
You don't need a large market to use Google advertising.  You can confine your advertising to your local community if that makes sense for you.  Or you can target prospects who live or work within a certain radius of your business.
Three Programs
Google offers three separate programs on its Adwords platform.  Each program performs a different function.  They allow you to place your ads in front of prospects who are:
Searching for businesses like yours (Search Advertising)
Reading or watching content related to your business, product or service (Display Advertising)
Recent visitors to your website (Remarketing Advertising)
Working with us
We offer all three programs but you can choose one, two or all three.