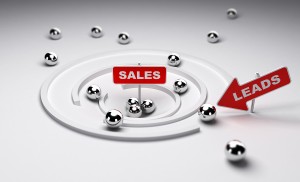 In the past 20 years or so, I have developed my share of lead generation programs for a wide variety of businesses using a wide variety of media and formats.
As a first step, I usually try to find out how the client defines a sales lead. Often the definition will vary depending on whom you ask:
The sales people want highly qualified leads that can close quickly.
The marketing people typically focus on volume and feel they have achieved their goals if they can deliver lead quantity.
Obviously, there needs to be a balance between quantity and quality.
Part of my job is to help my client come to this consensus.
So how do you define a sales lead?
In general terms, a sales lead is someone who has expressed an interest in a particular product or service – but who has not yet bought. The key word here is "expressed."
I think there needs to be some participation or demonstration on the part of the prospect to show an interest. A sales lead cannot simply be some name on a list – in spite of the fact that many list companies and directory publishers frequently call their products sales leads.
That's a good start but isn't there a big difference between someone who drops a business card in your fishbowl at a trade show and someone who wants to meet with you and then asks for a proposal?
Simillarly, isn't there a difference between someone who downloads your white paper and someone who spends an hour with you on a webinar?
The answer is yes, of course, there is a night and day difference.
Lead quantity vs. lead quality
Some businesses want lots of leads and aren't worried about quality. These are known as "soft leads" and are often the result of a "soft offer" such as a free white paper or free booklet. For these leads, the sales staff needs to be willing and able to do a lot of follow up to qualify these leads.
Other businesses don't have the staff or the patience to follow up a large number of leads and would prefer to receive just a handful of serious prospects. To produce these so-called "hard leads," we typically use higher commitment offers such as a free consultation, proposal, estimate, demonstration or seminar/webinar.
One of the strategies I often recommend is to develop a "big net" program that brings in the largest number of leads.  The reason is the first step in this process (the lead acquisition process) is typically the most expensive and I like to capture as many leads as possible from this investment.
Although most of these "soft leads" are far from qualified, they can easily be qualified with just a few questions by mail, phone and email.
It should be pointed out that while these may be lower quality leads, they are still more qualified than the larger number of people who didn't respond. More importantly, now that they have responded to our promotions, they become our leads and we can mail to them as often as we want to move them through the sales process.
Of course, regardless of what type of sales lead you decide to produce, the real key to your success is the follow up – by mail, phone, email and, in some cases, with a personal visit. Sadly, this is where even the most successful lead generation programs fail.
**********************
This article may be republished at any time as long as it includes the full bio and associated links below.
Bob McCarthy is a marketing consultant specializing in lead generation, direct marketing and creative services.  He has two reports you can download:  Step by Step Lead Generation and Lead Nurturing and Making Snail Mail Work – 13 Lessons in Direct Mail Strategy.