I have a blog (you're reading it).  I find it to be a good platform for writing articles like this one.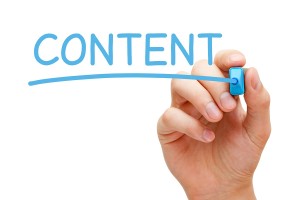 Having a blog also serves as a built-in reminder that it's time (or past time) to produce a new article.  I know because I've been meaning to write this article for two weeks now.
My blog posts definitely produce results for me.  When I share them on social media, I can see an immediate increase in visits to my blog and website.
Over time, some posts seems to gain momentum presumably because they are being found through search engines.  In fact, one of my posts on print advertising vs. online advertising, which I published this past April, actually generates more visits than my home page.
But I know many business owners don't want to have a blog.  Their reasons vary.
"A blog isn't right my business."
"I don't have anything to write about."
"I don't have time to write."
"I don't like to write."
"I won't be able to keep up with the schedule."
"I wouldn't want someone else to write my blog,"
"I don't see the value."
I understand all of these objections – I really do.  Blogs can take a while to impact your business.  You cannot expect results overnight.
And time is always an issue.  Take my word for it, writing is work.  Writing well is a lot of work.   The story ideas aren't that difficult.  It's the execution.
A blog would be so much easier to sell to business owners if you could just do it once and let it ride.  The idea of having to write a new blog post every week or every month seems so demanding.
My "hub-and-spoke" approach
But there is a way to build your website content – and get traction with the search engines – without a blog.  I call it the hub-and-spoke approach.
Here's how I do it:   I take one of my main services – direct mail – and then I create multiple pages around that service.  Each of these pages is designed to address one topic related to direct mail or one question people often have about direct mail.
For example, I have created pages on mailing lists, offers, format selection, creative, postage, response rates, pricing, etc.
These pages are primarily informational and educational with very little promotion.  I do include my free informational offers, however, and I do include links to all of the other pages.
Each page is then optimized for the particular topic – starting with the keyword phrase and the use of that phrase both on the page and in the meta data.    The Yoast SEO plugin for WordPress makes this process very simple.
This is a work in progress – and there's still a lot to do – especially with my other areas of work.  But unlike a blog, I don't feel the need to add to it on any particular schedule.  And all of the pages I produce remain accurate and relevant for searchers.
Here's what I have in place right now for direct mail.
 If this approach makes sense for your website, let's talk about it.  Call me at 508-473-8643.
—————
Written by Bob McCarthy
Download my FREE report, Step by Step Lead Generation & Lead Nurturing.
Join my list and get my newsletter.
—————
Bob McCarthy is a direct response copywriter and lead generation specialist.
Download his Freelance Copywriting Information Kit.