The B2B Outbound Marketing Toolbox for the Sales Lead Process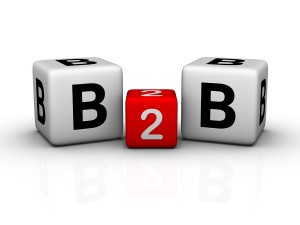 You may be familiar with the popularity these days for inbound marketing, a largely passive approach to selling.
In our view, inbound is a good idea and should be a part of almost every marketing plan, but it takes time to get traction.
The problem is most of us can't wait that long.
If you need leads right now, you must reach out and connect with your target audience.  You need to rely on good old fashioned B2B outbound marketing tactics – like email, direct mail and telemarketing.

One-to-One Outbound Marketing
For one-to-one outreach, you have three choices:
Email
Email is simple, fast and very affordable.  And used by almost everyone.
Direct Mail
Direct mail is still a powerful way to get your message into the hands of decision-makers.
Telephone
When you reach prospects by phone, you get immediate feedback.

Lead Generation
At the heart of any successful sales lead program is the ability to provide sales people with a steady flow of new sales leads.
We provide copywriting/creative services and/or full-service campaigns to help you generate leads for your sales team.
Working with your sales team, we can deliver any combination of email, direct mail or telephone prospecting that makes sense for your sales operation.  Pick and choose what you need.  We'll fit in to support your in-house capabilities.
Whether you have a single sales person or a large sales organization, we can put the pieces in place to help produce a steady flow of new leads every week, every month or every quarter.
Read:  Generating leads with lead magnets.
Lead Qualification
Not all leads have the same potential for buying, but the trick is knowing who's who.
We can help you qualify your leads by first creating a lead qualification survey form. The questions we ask are designed to determine whether your new prospects are not only able to buy what you sell, but also, and most importantly, interested in buying.
Outbound telephone calling is the most effective way to qualify prospects, but it's also the most expensive.  Less expensive options would be sending surveys via email or direct mail.
Read:  How do you define a sales lead?
Lead Nurturing
Leads often take weeks, months or longer to convert into customers – which means a lot of hand-holding.
An effective sales organization needs to have some system in place to stay in touch and build a relationship with those leads.
Yes, you can call them from time to time, or send them a postcard on occasion, but the most effective way to stay in touch with a consistent "touch" program is with email. This may include:
an automated email series that connects with new prospects on a pre-arranged schedule
an email newsletter or other periodical that helps to demonstrate your expertise
timed emails that promote next-step offers like webinars, diagnostics, demonstrations or consultations
repeated promotions of new white papers, ebooks or videos
a series of case studies, testimonials or interviews that build your credibility
We can help you create and execute different lead nurturing strategies to best fit your needs.
Read:  The Five Levels of Lead Nurturing

How can we help you?
Whether you're ready to move right now or just trying to collect information, we hope you'll take a closer look at our services.
We offer a variety options – from full service program to just copywriting and creative services.  For full-service clients, we often custom-design a program to fit with your sales process and your in-house capabilities.
As a first step, discuss your plans with Bob McCarthy.  You can reach him at 508-473-8643 or bob@mccarthyandking.com.
If you're not ready to talk, you can download our FREE report, Step by Step Lead Generation & Lead Nurturing, or our Copywriting Information Kit.
——————————————–