Direct Mail for Kitchen & Bath Businesses
If you're in the kitchen & bath business, direct mail will help you get your message out to your best target audience however you define it.
Whether you're a kitchen dealer, designer, remodeler, distributor or manufacturer, direct mail can help you generate a consistent flow of new leads for your business.
Learn about our complete direct mail program and how we can bring direct mail to your business.
We offer two programs – (1) to reach homeowners based on a demographic profile, and (2) to reach new homeowners shortly after they move to town.
Targeted Direct Mail
Reach homeowners in your area based on your selected demographic profile:
by household income
by age
by home value
by age of home
by length of residence
select by radius or zip code
New Homeowner Direct Mail
Reach new homeowners shortly after they move to town.
Research shows that new homeowners are anxious to find new business relations as soon as they move into their new homes.
They are great prospects for new or remodeled kitchens and/or baths.
Select your zip codes
Customize your mailer
Schedule your mailing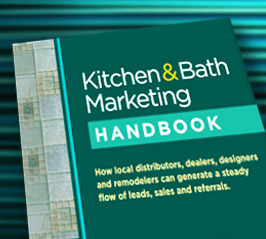 Get the book – it's FREE
And learn how to market your kitchen and bath
business – both online and offline.