Direct mail marketing for colleges, universities and training schools
| | | | | | | |
| --- | --- | --- | --- | --- | --- | --- |
| Colleges & Universities |   | Vocational Training |   | Continuing Education | | Corporate Education |
Improve student recruitment with targeted direct mail campaigns
Education is big business.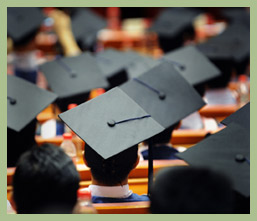 Competition for students is fierce – whether you represent a four-year college/university, community college, vocational training school or corporate training program.
Student recruitment starts early and will often require multiple communications to bring students through the admissions process.
Marketing communications often cuts across multiple channels – digital, TV, radio, email … and direct mail.
Yes, direct mail.
Direct mail may seem a bit old school, but it's still a powerful recruitment tool.
Think about it …
Direct mail lets you target students based on the criteria that is important to you.
Direct mail keeps you from wasting time and money to students who don't meet your requirements or have an interest in your program.
Direct mail gets noticed and has a proven record for generating response.
Direct mail is more tangible and has a longer shelf-life than any other marketing channel.
Direct mail sets you apart from so many other schools that have opted for digital and email only.
There is no doubt that digital marketing and email are here to stay, but direct mail can play an important role in your marketing plan.
How can admissions officers use direct mail?
Admissions officers can use direct mail for a variety of purposes++:
to introduce the school to prospective students
to generate inquiries for more information
to invite students for a campus tour
to engage students with a full scale presentation of the school
to respond to inquiries from the website or call center
to build the school brand and stay top of mind with selected students
to reactive lapsed candidates or students
to communicate with guidance counselors and other student advisors
Of course, direct mail can also be used by schools to stay connected with alumni and build a fundraising network.
What goes into a direct mail campaign?
It's easy to get bogged down with the mechanics of direct mail – things like printing, personalization, mail handling and, of course, postal regulations.
But real success starts with understanding your objective.  What are you hoping to accomplish with your direct mail campaign?  Are you expecting student inquiries, campus visits or actual applications, or are you simply hoping to build awareness of your school?
Regardless of your objective, you will need to consider the following;
Mailing List – arguably the most important part of the campaign.  You must reach students who are most likely to meet your student requirements.
Offer – often overlooked, but it's what will drive your response.  If you are looking for improvements in your response rate, this is where you look first.
Format – many choices here from postcards to self-mailers to letter packages.  Different formats work in different situations but also come with different costs.
Creative – creative concepts, copywriting, graphic design and finished art
Production – printing, addressing, personalization, mailing services and postage
Response Channels – reply mail, phone, fax, landing page, PURL
And don't forget to put a follow-up plan in place.
When you get a response, think about what the follow-up should include.
Will there be a phone call, another mail piece or perhaps a series of emails?
Email is a fast and affordable way to reach your target audience multiple times if you want.   Email can also be fully automated so you don't have to worry about responses falling through the cracks.
Learn more about our Direct Mail Marketing services
If you have a question, want to discuss a project or would like a proposal, contact Bob McCarthy at 508-473-8643 or bob@mccarthyandking.com.  In the meantime, check out these additional resources
Article – Direct Mail Planning & Execution – a 19-point checklist
Article – Mailing Lists:  Should you buy, rent or build your own?