Real Estate Marketing
Lead Generation and Brand Building
The real estate business is fiercely competitive.
Visit any downtown and you're likely to see a real estate firm at every corner. 
Whether you sell residential or commercial … you know how difficult it is to find, get and keep new customers. 
And that puts a lot of pressure on your real estate marketing program.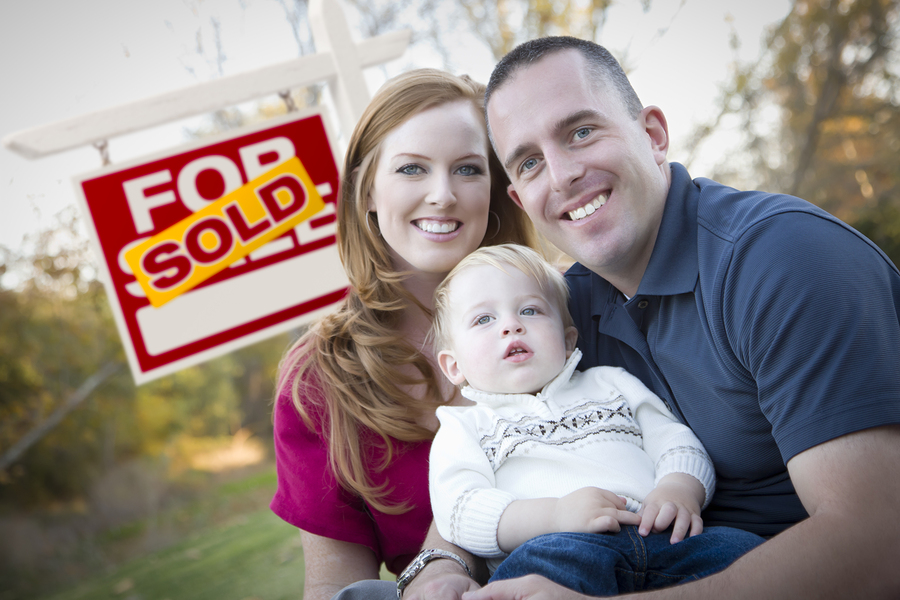 An Integrated Approach to Real Estate Marketing
For many small businesses, marketing is just a series of "one-offs" – you try one campaign this month and a new one next month.
Even when they work, they seldom address any more than one step in your sales process.
We think a better approach is an integrated approach that supports you throughout your sales process.
Lead Generation – Leads can be generated from many sources – both online and offline.  We use a variety of methods for lead generation including online display advertising, search marketing, website marketing, direct mail, even print advertising.
Lead Capture – Once a prospect shows an interest in your services, you need some way to convert that individual into a lead.  We use landing pages to capture leads – to convert those clicks or website visitors into sales leads.
Lead Nurturing – Too many leads fall through the cracks.  That is a complaint we hear all the time.  You get busy and before you know, you forget to make that follow up phone call – and that prospect goes somewhere else.  We use drip email, scheduled email and reminder postcards to support your lead nurturing efforts.
Brand Building – Over time, as build your reputation and expand your relationships, your name and your company name will become known to your community, but there are steps you can take to accelerate that process.  We use a combination of online brand advertising, remarketing and email communications to support your brand building efforts.
Real Estate Marketing – Step by Step
Here are some of the marketing activities we recommend for a real estate business:
Targeted Online Advertising
We like using the Google Display Network to get your message out to your target market.  Google represents about 80% of the websites worldwide which gives you the greatest advertising potential.
We can target by geography – right down to your local zip code.
We can target by demographics (age, income) or topic interests (news, sports, hobbies).
We can also target by demonstrated online behavior. If someone in your target geography is visiting other real estate websites, we can be sure your ads will be delivered to them.
Targeted Online Advertising can be designed to build your brand and/or generate leads.  For brand-building, we recommend a "cost per viewable impression" payment model; for lead generation, we recommend a "cost per click" model.
All clicks are linked to your website or a dedicated landing page (recommended).
One alternative to the Google Display Network is Facebook Advertising.  Facebook offers tremendous targeting as well but your ad exposure is confined to Facebook users. 
Google Search Marketing
Google Search has become the new Yellow Pages.  When someone wants to find a real estate agent, they will type in "real estate agent in (your town)" and if you are a Google Search participant, your ad could show up on Page 1.
We call this "intent-based" advertising in that the visitor has shown intent by doing the search.  When someone clicks on your ad in Google Search, you should expect that person is looking for a real estate agent.
But there's a lot of competition for the top spot and because of that, you can expect your cost per click will be higher than Targeted Online Advertising.
All clicks are linked to your website or a dedicated landing page (recommended).
Local SEO (Google Maps)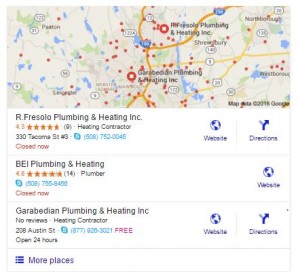 Here's one place a local business can get listed on Page 1 of Google – for FREE.
It's called Local Search or Local SEO.  You may know it better as those listings on Google Maps.
When someone types in "real estate agents in (your town)," a map often comes up showing three local real estate businesses.  It also includes a link to additional listings. 
Who gets listed on Google Maps is up to Google, but there are steps you can take to improve your odds. 
Some of those steps are easy such as updating your Google My Business page and making sure your listings are consistent.
Some steps are more complicated like updating your listing on other website and improving your "customer review" activity.
We can help you with these steps and improve your position on Google Maps.
Direct Mail
Direct Mail falls into two categories – mass mailings and individualized mailings.
Mass mailings are those direct mail pieces that are sent out to a targeted audience (as defined by your target demographics). For example, a mailing that goes out to households where the homeowner has lived in the house for 10 years or more.
Individualized mailings are those mailers that target neighbors of a recently sold listings, or reminder postcards to past prospects, or referral request mailers to past customers.
Email Marketing
Email has been a real game-changer for marketers.  It's fast and cheap.  
For real estate agents, it can be used as way to stay in touch, to nurture relationships, to reactivate old leads, to build your reputation as an authority in this industry.
We use pre-scheduled drip email sequences to build relationships with new leads and regularly scheduled emails to keep your name top of mind. 
Landing Pages
When prospects respond to your marketing activities, they can do so by clicking on a link. That link automatically takes them to a landing page where they can sign up for a free download, or request a home evaluation, or schedule a meeting.
Using a designated landing page is much more effective than sending visitors to your home page.
If you're looking for ways to improve your current marketing program,
contact Bob McCarthy and schedule an introductory call.
508-473-8643         bob@mccarthyandking.com