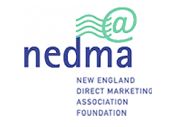 [break]
On Tuesday, February 26, 2013, I will be speaking at the New England Direct Marketing Association's (NEDMA) annual Direct Marketing Innovations Symposium at Bentley College in Waltham, Massachusetts.
My 60-minute presentation – Developing an Offer Strategy for Direct Mail, Email and the Web – will be one of 12 presentations during this all-day conference.
To learn more about my presentation, click here.
If you are interested in attending, I have a special "guest pass" rate that I can extend to you. If you go to this special registration page, you can attend at the special rate of $50 instead of the regular price of $119.
To qualify for this "guest pass" rate, you must register by Thursday February 21.
PROGRAM AT A GLANCE
8:30-9:00 AM Check-in, Coffee and Networking
9:00 – 10:00 AM Concurrent sessions
>>Marketing Automation – Automating Customer Lifecycle Management Insights into making your customer's experience more personal, relevant and valuable – in a rapidly scalable way.
Mike Martin, Senior Marketing Manager, Eloqua
>>Strategy – Developing an Offer Strategy for Direct Mail, Email & the Web
Bob McCarthy, President, McCarthy & King Marketing, Inc
>>Mobile Moving Beyond Mobile: Touch Enabled Marketing for Every Screen
Steffan Berelowitz, Chairman & CEO, Bluetrain Mobile
10:10 – 11:10 AM Concurrent sessions
>>Integrated Digital Marketing – Drive>Capture>Convert>Optimize – Learn how to plan and visualize integrated digital marketing platforms that click, engage, convert and measure.
Harry Gold, Founder and CEO, Overdrive Interactive
>>Data – "Mastering your Data for Direct Mail and Beyond"
Chris Nolan, Founder & President. KleerMail
>>Direct Mail – How a happy marriage can help you do more direct mail for less
Jerry Velona -Exec. Vice President/Part Owner of Elite Envelope & Graphics, Inc.
Hillary Librot – President of Web Corp
11:20 AM – 12:20 PM Concurrent sessions
>>Integrated Marketing – Case study Found Money: Using Integrated Marketing to Launch an Online Financial Program
Lianne Wade, VP, Account Director, Wilde Agency
Harmony Kiernan, Senior Account Executive, Wilde Agency
>>Direct Mail – Six New Strategies to Test for Less
Jane Larson, Direct Mail Specialist, United States Postal Service
Kevin Hobbs, Mail Solutions Specialist, United States Postal Service
12:30 – 1:15 PM Lunch
1:15 – 2:15 PM Concurrent sessions
>>Direct Marketing Today and Tomorrow
Ian Cross, Senior Lecturer Marketing, Director, Center for Marketing Technology, Bentley University
>>Mobile How Mobile Can Boost Your Direct Marketing Campaign
Ted McNulty, Director of Performance Advertising Sales, Jumptap
2:30 – 3:30 Concurrent sessions
>>Ecommerce = Karmaloop.com's Recipe for Ecommerce Success
Greg Selkoe, CEO, Karmaloop
>>Direct Mail Customer Panel, "What's in Your Mailbox?
John Kennedy, Business Development Manager, Blue Ribbon Barbecue, Inc.
Sam Ricco, Vice President of Account Services, BKM Marketing
Lindsey Hoffman, Marketing Communications Manager, Game Show Network (GSN)
I hope you can join me.  If you do attend, please come up and say hello.
Bob McCarthy
bob@mccarthyandking.com
508-473-8643