Lead Generation
Improve sales results and ROI with closed-loop lead generation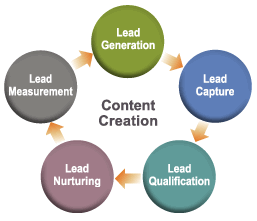 McCarthy & King Marketing offers complete lead generation services to help you generate, capture, qualify and nurture your sales leads every step of the sales process.
We create and implement multiple marketing activities – both online and offline – to produce a steady flow of qualified sales leads for your sales team.
All of our lead generation activities are designed to work within your current sales structure and to provide you with a level of support that's appropriate for your needs and budget.
A 5-Step Sales Lead Process
While sales cycles vary in the length and complexity, they all go through this 5-step process.   Let us help you put all the pieces together to give your sales team the support it needs.
Lead Generation – direct mail, advertising, online, social, speaking/writing
Lead Capture – web pages, landing pages, pURLs
Lead Qualification – online surveys, printed surveys, telephone surveys
Lead Nurturing – email drip campaigns, e-newsletters, postcards
Lead Measurement – response/conversion rates, cost per response
For more details, check out our Sales Lead System – Step by Step.
Contact Bob McCarthy at 508-473-8643 or bob@mccarthyandking.com.
Service Options
Lead Generation Projects
Lead Generation Programs
Lead Generation Consulting
Lead Generation Copy & Creative
Lead Generation Coaching
************************************************************
[break]
Read our Case Studies
Read our Articles