If you want sales leads, start with a lead generation magnet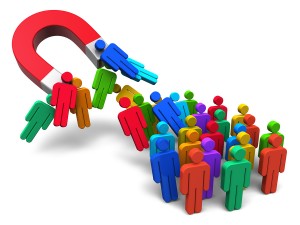 Lead generation is all about getting prospects to raise their hands to show they are interested in what you sell.
And to get those prospects to raise their hands – whether you're using online or offline marketing – you need to offer some type of useful information in the form of a white paper, tip sheet, how-to report or step-by-step guide.
This is what we call a lead generation magnet.

What exactly is a lead generation magnet?
No, it's not something you put on your refrigerator.
A lead magnet provides a different form of attraction – which is the ability to attract sales leads … the ability to pull a prospects out of a pile of suspects.
Also known as a lead generation offer or lead bait, a lead magnet is the centerpiece of every direct response campaign.

A focus on education
More than anything else, a lead generation magnet needs to be informational and educational – not promotional.
It needs to be developed with the idea of helping, not selling.  There will be plenty of time for selling later – after they respond and you have their contact information.
At the earliest stages of the buying process, prospects aren't looking for promotional material.  They are not evaluating suppliers.  They are not comparing capabilities or experiences.
At the earliest stages, prospects are conducting research and looking for information that can help them.
By providing that information, you improve your chances of getting on the short list – and most importantly, you position yourself as an expert in your field.

Two key factors
Your lead magnet should be strategically aligned with the product or service you are selling.  It should focus on two objectives.
First, your lead magnet should promise to solve a problem your prospect is having as it relates to your product or service. You're not expected to provide a comprehensive solution.  That's where your product or service comes in.  But it should provide some good preliminary information.
Second, your lead magnet should deliver on that promise.  It should have enough substance – enough content weight – to satisfy the respondent and reflect well on you.  You do not want to simply send along a company brochure with a one-page tip sheet.  You do not want your respondents to feel cheated.
Both objectives need to be achieved to have a successful lead generation magnet.  To achieve only the first objective would leave respondents disappointed.  To achieve only the second objective would produce a disappointing response rate.

The power of the title
In terms of generating response, your title will have a great impact on the response level.  If you took the same lead generation magnet but used different titles, you would see dramatically different response levels.
It is highly recommended that you test multiple titles with your lead generation magnet.

Where are lead generation magnets used?
Lead generation magnets can be used in all of your marketing channels – both online and offline.
They are typically offered:
on your website and landing pages
in online and print advertising
in direct mail and email
in radio and TV advertising
at trade shows
with press releases
in cold calling
If you use the same lead magnet with all of these marketing channels, you can track your results and test the performance of each marketing channel.

Gated content – or not
In content marketing, one question always comes up.  Should this piece of content by gated or not?  With gated content, prospects can only access the content if they fill out some type of form.  Ungated content is available with out any type of sign up.
Lead generation magnets are, by definition, gated content.

How are lead generation magnets used?
Lead generation magnets are used as part of the lead generation exchange.  Prospects are offered the magnet in return for their contact information.  If the magnet has high appeal, it will generate high response.
Prospects would fill out a web lead form or a physical reply card – and receive the lead generation magnet in return.  For online requests, the magnet may be delivered immediately after email confirmation.  Offline, the magnet would be delivered physically in person or by mail.
How much information you need to collect on your lead form will affect your overall response.  You will get your highest response if you only require an email address.  If you require full contact information, your response will drop dramatically.

Types of lead generation magnets
Here are just some of the many types of lead generation magnets
White papers
How-to reports
Step-by-step guides
Tip sheets
Q&As
Case Studies
Interviews
Maps/Charts
Videos
Webinars

How we create a lead generation magnet
In developing a lead generation magnet, you need to consider several factors before you begin writing.  Here's the process we follow:
Idea Generation – develop lead magnet ideas that have high interest level but also align with the product/service being sold
Format Selection – consider multiple format options – brochure, booklet, map, slideshow, video, portfolio
Organizational Planning – develop a rough layout (not design) for the entire format – may include a table of contents
Title Options/Testing – develop many title options, whittle down to the best 3 or 4 – consider testing multiple titles
Research/Writing/Design – this is often a collaborative process between the copy/design team and our client who understand business better than we do.  This collaboration is particularly important when the lead generation magnet needs to focus on a technical or specialized topic.

Call for an estimate
If your lead generation program needs a response lift, let's talk about creating a lead generation magnet for you.  Call Bob McCarthy at 508-473-8643 (or send him an email – bob@mccarthyandking.com) and he'll give you an estimate.
If you prefer to keep some of this work in-house, no problem.  We'll provide you with an itemized estimate to give you some options.