Download our FREE ebook, "Step by Step Lead Generation and Lead Nurturing" – see below
****************************************************************************************************************** 
Let me help you build a true lead generation "system" for your sales team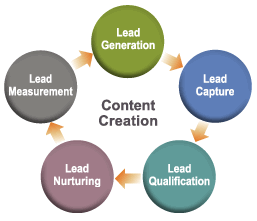 McCarthy & King Marketing offers complete lead generation services to help you generate, capture, qualify and nurture your sales leads every step of the sales process.
We create and implement multiple marketing activities – both online and offline – to produce a steady flow of qualified sales leads for your sales team.
All of our lead generation activities are designed to work within your current sales structure and to provide you with a level of support that's appropriate for your needs and budget.
A 5-Step Sales Lead Process
While sales cycles vary in the length and complexity, they all go through this 5-step process.   Let us help you put all the pieces together to give your sales team the support it needs.
Lead Generation – direct mail, advertising, online, social, speaking/writing
Lead Capture – web pages, landing pages, pURLs
Lead Qualification – online surveys, printed surveys, telephone surveys
Lead Nurturing – email drip campaigns, e-newsletters, postcards
Lead Measurement – response/conversion rates, cost per response
If you already have some of these pieces in place, no problem.  I can work with you to give you only what you need.
Complete programs, consulting, creative or coaching
We know not everyone needs or can afford everything we have to offer.  That's why we make our services available in a variety of formats.
Yes, we can do the whole thing for you.  But if you want to keep some things inhouse, we can provide consulting or copy/creative services for you.  And if you're very limited in your resources, I personally offer one-on-one monthly coaching calls to give you direction and feedback.   You decide what's right for you.
To learn more, call me or send me an email.
Bob McCarthy (508-473-8643)
bob@mccarthyandking.com
******************************************************************************************************************
To download Step by Step Lead Generation and Lead Nurturing,
please fill in the form below.