Lead Generation System – Piece by Piece
Let us build your Lead Generation System … one piece at a time
The Lead Generation System is a complex, multi-step process that can put a demand on your internal resources.
It starts with Strategic Planning where we will map out a detailed plan for your lead generation system.
We typically start from the back of your lead generation system – putting in place your lead nurturing activities and landing pages before we start generating your leads.
Once the plan is finalized and approved, we will put together an execution plan that includes creative estimates and media budgets (where applicable) for each the projects we're recommending.
You decide where you need help
We understand not every business needs an overhaul of their lead generation process. Many businesses may already have some of the pieces in place.
If you want to focus on one or two elements of the lead generation process, we can work with you to build and maintain those elements – and integrate them into what you already have. 
We can fit in where needed
When you work with us – even on a piece-by-piece basis – you are not relinquishing control of the program.  We want to work with you collaboratively to help you develop a lead generation that is right for you.
If you have internal staff or other resources that you want to include, just let us know. 
How it works
We look at this process in three phases:
Strategic Planning where we map out your entire lead generation system – even if you are not using us for the complete system.

Creative Services where we write, design and develop all the materials you will need. We will only focus on those components you need.

Ongoing Management where will oversee the implementation of each project within the components you need.

 
Optional approaches
If the Piece by Piece approach is not for you, consider these other options:
Complete System where we handle everything under the five pillars

Do It Yourself where you do all the work, but we can guide you through coaching
Your Lead Generation System
in 5 Steps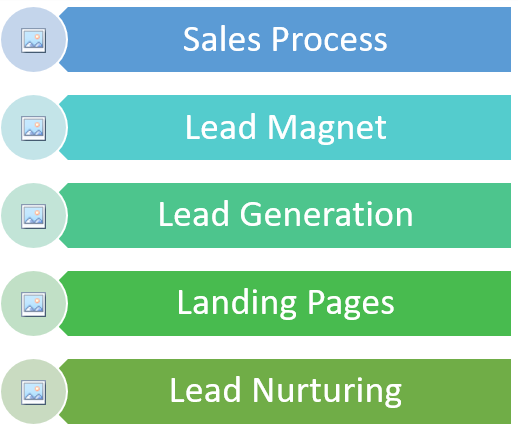 Strategic Planning

Workflows, integrations, testing, metrics – let's design and build a lead generation system that works for you.
Creative Content
Ads, emails, mailers, landing pages, lead magnets – somebody needs to create this content. We're ready to help.
Ongoing Management
Deadlines, estimates, execution, tracking, measuring, reporting – let us help you keep everything moving smoothly.
"I've known Bob McCarthy professionally for over 25 years. He first helped us develop a B-to-B direct mail lead generation program for our software business. Within 90 days, Bob developed lead programs and internal scripts that allowed us to move from an expensive direct field model to a lower cost inside sales team approach. Our revenues increased while our costs went down."
FREE Strategy Session
Looking for ways to improve your lead generation efforts?  We might have a few ideas for you.
We offer a FREE 60-minute Strategy Session (via Zoom) where we will take time to learn about you, your business and your sales/marketing needs. We will then walk you through the entire lead generation system focusing on those parts that are most relevant to you.
There's no obligation. It's just an opportunity to get to know each other, and hopefully give you some ideas for moving forward.