Local Search:  An SEO Priority for Local Businesses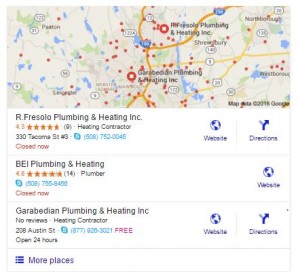 You've seen it many times before.  You type in a search for a restaurant, plumber, dentist, or any other local business and Google serves up a list of local businesses.
Sometimes that list also appears on a map.
So how do you get your business on that list?  It's not by accident.  It's called Local Search.
In the world of Search Engine Optimization (SEO), the business of Local Search gets little attention.
But if you run a local business – meaning if you sell to customers in and around your business location – Local Search should be a priority for you.
=================================
CLICK HERE to get a FREE Local Search Analysis
=================================
Understanding Search Marketing
For decades when people wanted to find local businesses to hire, they would use the Yellow Pages.
Today, they go online.  Search Marketing is used to improve a business's chance of being found during that search.
There are three types of Search Marketing
Content/SEO – This is the most familiar, but least understood and least predictable, form of Search Marketing.  It involves creating content on your website that the search engines serve up when searchers type in specific keyword phrases.
Paid Search – This is best known as Google Adwords where you can pay to get your ad to the top of Google and the other search engines.
Local Search – This is reserved for those businesses that have a local customer base.  When local customers search for businesses like yours, you want to show up in the special "local listings" section of the search page.
Local Search is an achievable goal
For Content/SEO, the goal of getting to the top of Google may seem like an unrealistic goal for most small business owners.  First, you need to have some SEO knowledge and skill.  Second, you need to create a vast amount of content.  And third, you're competing with millions of other websites and blogs from around the world.
Paid Search can also be a bit intimidating.  For some industries and keywords, the highest bids per click could be well beyond the budget of many small businesses.
But in the case of Local Search, you have a real chance of getting to the top of the local listings.  There's no cost involved.  You don't need to create that much content.  And best of all, you are only competing with other local businesses in your industry.
=================================
CLICK HERE to get a FREE Local Search Analysis
=================================
Who can benefit from Local Search?
It should be clear what the obvious local businesses include:
Retail stores and restaurants
Local home services like plumbers and electricians
Local professional services like dentists and lawyers
Local contractors like window and siding companies
What most of these companies have in common is they sell to local consumers.  They may also sell outside of their local area but at least some of their customers are local residents and/or other businesses.
What if you are more regional rather than local?
Many businesses – even those that are primarily local – will serve areas beyond their local community.  Google understands that some businesses serve a wider regional market and gives you the option to identify your business as a "service area" business.
Within your Google My Business account, you should use the map tool to show your approximate area of service.  Keep in mind though, those service areas that extend far from your business address will be less likely to rank than service areas nearer your business location.
What if you have no public business location?
Many businesses never have customers visit them at their location.   The work is either performed at the customer's location or delivered to the customer when completed.  These can be all kinds of service companies, contractors and freelancers.
From a Local Search standpoint, you still need a physical business address (not a post office box) – even if it's your home address.
What if you don't want your address shown on a map?
No problem.  On your Google My Business account, there is an option that says "Don't show on map."
So how do you get ranked in Local Search?
Although there are no guarantees you will get top rankings in Local Search (you're always at the mercy of Google), there are steps you can take to improve your chances.  In no particular order, they include:
NAP – this stands for Name/Address/Phone – what this means is that you need to make sure your business name, address and phone number are EXACTLY the same everywhere on the web.  The problem is if the name, address and phone are not consistent, the search engines get confused (they are computers after all) and they lose confidence in your listings.
Directory Submissions – do a search for your own business and you're bound to see many listings that are not your own.  These are largely online directory listings and there are thousands of them across the web.  These online directories are in the business of getting found in search (usually to sell advertising).  To a large extent, the search engines rely on the these directories to confirm their listings.
Search Engine Listings – there are hundreds of search engines but the only ones to worry about are Google, Bing and Yahoo.  But really, just Google.  All three of these search engines allow you to prepare and submit detailed profiles about your business.  These need to be completed if you want to compete for a local rank.
Social Media Listings – the growth of social media has helped to expand the exposure of local businesses.  Even if you have no plans to be active in social media listings, it is important for your business to have business pages on Facebook, Twitter, LinkedIn and Google Plus.
Local Page Creation/Optimization – your home page could be your "local" page but if your local business is just part of your business, you may want to create a page dedicated to your local market.  If you have multiple locations, you may want to have a dedicated page for each location.  As with all web pages, you want optimize your pages with specific local keyword phrases.
Customer Reviews – customer reviews have become increasingly popular for consumers and increasingly important for search engines.  These are not reviews you post on your own websites.  These are reviews that are posted on Google and other review sites.  Although you cannot control how people review your business, you can manage this process to get more positive reviews and thereby improve your chances to get to the top of Local Search.
What services do you provide to help me with Local Search?
We offer a mix of services to help you improve your rankings on Local Search.
Review
We will review your website for Local Search optimization, current search engine listings, third party directories and your social media accounts.
Activate, Update and Correct
If you are not showing in certain directories, seach engines or social media platforms, we will take steps to activate those accounts.  For existing listings, we will check the listings for accuracy, then make the necessary updates and/or corrections.
Monitor and Maintain
After your listings have been updated, we will continue to monitor your listings and make the necessary revisions as needed.
Review Management
We will create user review page on your website to allow users to leave reviews on third party sites.  For positive reviews, the page will make it easy for the user to leave a review.  For negative reviews, the business will be allowed to try to address the problem before the review gets posted
=================================
CLICK HERE to get a FREE Local Search Analysis
=================================
To learn more, please contact Bob McCarthy at 508-473-8643 or bob@mccarthyandking.com.