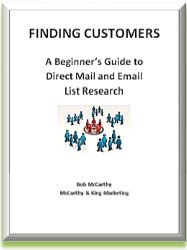 Now available on Amazon Kindle …
FINDING CUSTOMERS
A Beginner's Guide to
Direct Mail & Email List Research
Download it for FREE – until tomorrow (Friday, May 17)
We all know the list is the most important part of any direct mail and email campaign.
But how comfortable or confident are you with the list research process?
In my new ebook, I provide a simple outline for finding, acquiring and evaluating outside mailing lists – whether you want to buy them, rent them or build your own.
Mailing list research is a bit of a mystery for most marketers.  But this ebook will make you a smarter marketer by giving you insight into the list industry and how lists are created, managed and sold.
You'll learn:
about the differences between compiled and response lists.
how the new "crowd-sourcing" lists are the perfect solution for small business marketers and solo practitioners.
how to create a customer profile
where to find lists
how direct mail and email lists are priced.
why large quantities are good even on a small budget.
what minimum requirements to expect.
what sample sizes are needed for testing.
why "hotline" names are bad for testing.
why lists are the most important and most affordable elements to test.
why list deliverability (list hygiene) is not necessarily a good indicator of performance.
why you should never buy on price.
I wrote this book from the perspective of a list buyer (or renter) – not as a list seller.  As most of you know, I am a direct response copywriter and consultant. I don't sell lists.  I help my clients find, acquire and measure them.  That's my approach in this ebook.
You can download this book for free until end-of-day tomorrow (Friday, May 17).  After that, the price goes up to a whopping $2.99.
Get your copy of FINDING CUSTOMERS here.
This is my first Kindle book.  I've been wanting to do this for a while just to see what the powerful Amazon network can do for getting an ebook promoted and distributed.  I will let know in future posts.
As part of my contract with Kindle Publishing, I am able to make it available free of charge for a 5-day period.
The free period will end tomorrow.  Go to Amazon now.
Bob McCarthy
P.S.  If you download the book and you like the information I've provided, I would appreciate it if you would leave a review on Amazon.  This is an important consideration in how much Amazon promotes the book.  Thanks.
P.P.S. – Thank you to everyone who attended my session yesterday (on this very same topic) at the New England Direct Marketing Association's annual conference.  It was fun for me.  I hope found the session helpful.