One of the major advantages we have today is that so much of your marketing can be automated.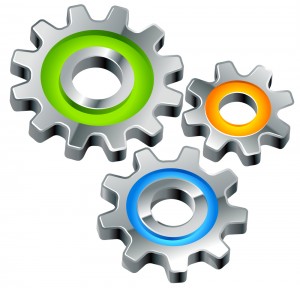 The idea of setting up a system once and then putting it on auto-pilot is very appealing.
And the good news is you don't need an expensive marketing automation system to do this.  A $15 a month account with Constant Contact or any other email service provider will do just fine.
Today, I want to focus on the automation of the "back-end" of your lead processing, including:
Automated lead capture
Automated data entry
Automated fulfillment
Automated lead nurturing
This has been a real breakthrough for anyone involved in lead management or lead nurturing.
By automating this process, you are not only saving time and money and improving overall efficiency; you're also ensuring greater consistency in follow-up.
If you are a solo practitioner or run a small business, you know how easy it is to forget about adding new leads to your database and how time consuming it can be.  If you have a sales team, you're concerned about accountability and making sure your sales people aren't discarding leads prematurely.
Either way, a "set it and forget it" system can make all the difference in the world.
Here's how it works:
You run a marketing campaign that is designed to generate leads.
A new lead comes to your website or dedicated landing page.
Visitors fill out the form on the page.
Email address is sent to the respondent as confirmation,
Information that was promised in the promotion is then made available for download.
Collected data is added to your database.
Sales team is notified of the new lead.
A Thank You email is immediately sent to the lead.
A series of 5-10 emails is sent on a pre-arranged schedule promoting the next step in the sales process.
And with just a few small adjustments, you can create multiple landing pages which will allow you to track and measure response from the "front end" of your marketing program.
Depending on the email service provider or marketing automation system you are using, you could add multiple tracks of emails for different products, applications or target industries/job functions.  More advanced system would also allow you to add "triggered" emails that are sent after a prospect takes a specific action.
How can we help you?
If you'd like to automate the back end of your lead processing, let us show you some options.
We can help you in a variety of ways.
We can set up a system for you from scratch.
We can work with your existing system.
We can create the landing pages and emails for you.
Whether you're using a marketing automation system or a low-cost email service provider, we can show you how.
Call me at 508-473-8643 or send me an email to bob@mccarthyandking.com.
—————
Written by Bob McCarthy
Download my FREE report, Step by Step Lead Generation & Lead Nurturing.
Join my list and get my newsletter.
—————
Bob McCarthy is a direct response copywriter and lead generation specialist.
Download his Freelance Copywriting Information Kit.