One-to-One Marketing Coaching
Advice … Training … Mentoring
If you've tried your hand at marketing lately, then you know it's pretty complicated out there.
Websites, email, SEO, pay per click, landing pages, PURLs, QR codes, social media – the marketing world is changing fast.
We understand that technology isn't for everyone, but the fact is many of these new ideas can actually improve your business – with help.
With One-to-One Marketing Coaching, we can help you or your marketing team navigate your way through these new but exciting marketing opportunities.
Building the marketing relationship …
one step at a time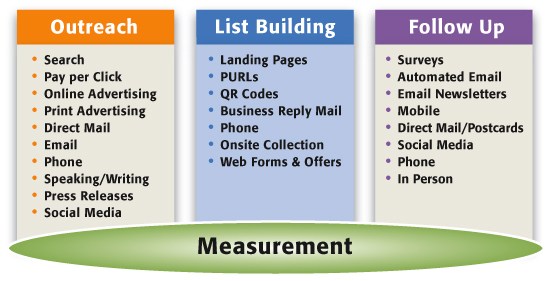 When we work with clients, we look beyond the simple ad, direct mail piece or website.  Instead, we prefer to take a step back and look at the entire Marketing Process.
In the chart above, we've outlined many of the online and offline marketing tactics that are available today.
You don't need to do everything listed here, but you do need to develop a process for Outreach, List Building and Follow Up.
And of course, you need a process for measuring everything.
This is how we can help.
What exactly is coaching?
Coaching is a collaborative relationship that varies with each clients.
For clients with internal marketing resources, our role may be mostly advisory – consulting, training and mentoring.
For clients with little or no marketing resources, we may take on an expanded role that includes creative direction, copywriting and project management.
One-to-One Marketing Coaching is a flexible service that has no long-term contracts and can be adapted to various budgets.
More than advice
There is no shortage of good ideas out there.  But are they right for you?
As your marketing coach, we'll give you practical, common-sense marketing advice always aware of your individual needs and budget.
But we won't leave you with a list of recommendations.
We will help you implement your program – we'll write your copy, work with your vendors, manage your schedule, watch your budget  – whatever it takes to take to execute each project.
Let's  talk
To learn more about our One-to-One Marketing Coaching program or to discuss your marketing challenge, call Bob McCarthy at 508-473-8643.