Services & Pricing
Multi-Step Lead Generation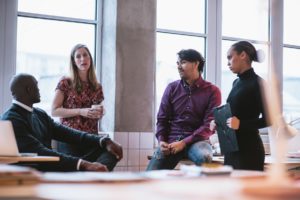 At its most basic level, lead generation is the act of getting prospects to demonstrate an interest in your products or services.
You reach out to your larger universe of prospects – using an number of marketing channels – and ask them to respond to a particular offer.
When they respond, they become leads.
If you track response from all your marketing channels, you will be able to determine which channels are most productive for you.
Of course, leads will vary in quality – meaning not all leads have the same potential for becoming customers. A good lead generation program should be able to address that.
Beyond Lead Generation
Lead generation doesn't end when you get the lead.  In many ways, you're just getting started.
Generating a new sales lead is an accomplishment to be sure.  But leads are not sales – not yet anyway – and there's a lot to be done to take a lead all the way to the point where that lead is ready to buy.
This follow-up process – which can vary from a few days to a year or more – is critical.
In the past, when a company generated a lead, the lead would immediately be sent to sales where an individual sales rep would manage the entire follow-up process.
Today though, more and more companies are seeing the value of staying in touch with their leads – and have taken steps to manage the follow-up process.  This is done regardless of what sales does.
The Follow-up Process
After the lead comes in, the follow-up process may include:
lead qualification – accessing the likelihood a lead will become a sale; and the potential value of that sale
lead nurturing – steps taken to follow up and stay in touch with the lead
lead exploration – learning more about the needs, goals, frustrations and expectations of the lead
lead engagement – getting the lead more involved in the buying process
lead closing – the final step of converting a lead into a sale

How We Work
For businesses of all sizes, this is a broad-based service incorporating multiple marketing activities that contribute to the sales process.
We will work with you on a wide range of projects that may include direct mail, email, website development, content creation, online advertising, search marketing, trade show marketing, public relations and collateral development – whatever is a priority for you.
Our focus is on building a measurable marketing program or system that generates a consistent flow of new leads – and then stays in touch with those leads over the long haul.
Our Services
When we work with companies on a month-to-month basis, we help in many ways, but only to the extent needed.
Here are the services we provide:
Direct Mail – full-service direct mail campaigns designed to generate leads.  The size and frequency of your mailings will vary.
Email – email campaigns to a list of opt-in prospects who have previously identified themselves as a lead. If needed, we can also provide cold-email to rented or purchased email lists.
Paid Search – Google Adwords campaigns to get your ads to show on a Google search page.
Online Advertising – display ads that appear on websites across the Google Display Network.
Remarketing – display ads that connect with people who have previously visited your website
Organic Search – content creation designed to get your website found for specific keyword phrases.  This typically requires a high level of content creation combined with social media.
Local Search – for companies that sell to a local market, local search helps to get your name in the local search results (sometimes appearing on a local map)
Landing Page Development – landing pages increase the chances of your clicks converting into leads.  We can build landing pages on your website or on a third-party services
Website Management – for websites using the WordPress platform, we can help you update, create and manage your website pages.
How We Charge
Our services include strategic planning, program management, list/media research, creative direction, copywriting, graphic design, website and landing page development and production supervision.
Fees – $1,500 – $5,000 per month (6- or 12-month contract)
Pricing will vary with scope of work, selected services and scheduling needs.  For example, at the low end, our services are mostly cover strategic planning and program management, while at the high end, our services would also include copy and design.
Let's Discuss
To learn more, or to tell us about your own needs, please contact Bob McCarthy at 508-473-8643 or bob@mccarthyandking.com