If you've been running traditional offline print advertising – in local newspapers, magazines or trade journals – chances are you've been subject to your share of sales pitches asking you to move some or all of your advertising online.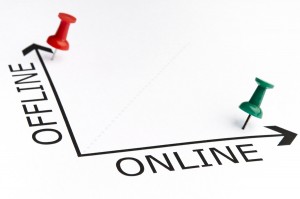 Often these pitches come from the same publishers of your print ads who smartly have added online properties to their advertising packages.
You may have been tempted.  The pricing seems more appealing.
You may have even tried it.
But most of you have understandably not fully transitioned over to online.
I wouldn't either – not until I could measure my results and then compare.
But I would be very open to it. I really would.  Here's why …
We're reluctant to change
Perhaps this is a sign of my age, but I like print publications.  I like holding a newspaper or magazine, flipping through the pages.  I much prefer reading a newspaper than reading news online – and I am someone who spends a good part of my day online.
I subscribe to many online publications in my industry, but when given the chance, I will always opt for the print publication.
I know I'm not alone in this. A large segment of the population grew up on print.  Transitioning to an online world has been a slow, somewhat reluctant move.
Because of this personal experience, many business owners and marketing directors remain unconvinced that advertising online could ever be as effective as advertising in a print publication – and as a result, are unwilling to pay top dollar for online.
Which is more effective – print or online?
Is it more effective to run an ad in a newspaper's print edition or on that same newspaper's website?
Based on price, the answer is clear.  Print is far more expensive than online.
But is that price disparity a reflection of true effectiveness or perception?
In some ways, perception is all that matters.  If ad buyers think print is more effective, end of story, right?
But doesn't it come down to this:
How many people will actually see your ad?
What is the purpose of the advertising media?
It's to reach a specific audience.  That's it.  Nothing more.
Forget about whether the ad itself was effective.  That's a separate discussion.
We are only talking about the media channel here.  And you have to ask how many people – qualified prospects – will actually see your ad with this publication?
Let's see how effectively print and online can reach a target audience.
Start with Print Advertising
It's no secret that Print Advertising is suffering.  Just look at the size of your industry trade journal or the magazine insert in your Sunday paper.  They have become wafer thin – all because they have fewer ads. And fewer ads mean fewer pages.
(Ironically, if you are still advertising in these publications, your effectiveness may actually be increasing because you have less competition and your ad is more likely to be seen.)
Getting back to my original question, how many people will actually see your ad?
Think about how many people get the publication (how many subscribers).
Of that, how many actually see the publication.
Of that, how many actually open the publication.
Of that, how many actually get to the page where your ad appears.
Of that, how many actually see your ad on that page.
Only then, does your ad even have a chance of producing a response.
This drilling down process is very sobering.
Now consider Online Advertising
Publishers vary in how they charge for online advertising, but many charge by the cost per 1000 impressions.  Impressions are actual page views.
(Other methods include a fixed amount per month based on estimated traffic, or cost per click where you are only paying when someone clicks on your ad.)
With online advertising, your ad will appear in one of several ad blocks that appear on a page.  Naturally, the best spots are at the top where your ad will be seen even if the visitor doesn't scroll down.   Lower priced spots are available near the bottom of the page.
Some publishers have the ability to target online visitors by demographics, geography and sometimes by previous behavior.  Geography is particularly important because many of the larger publications distribute far beyond your advertising market.
Guaranteed impressions
When you buy on a cost-per-impression basis, your impressions are guaranteed – assuming the publication is being monitored and audited by the Interactive Advertising Bureau (IAB).
If you pay for 20,000 impressions, your ad will appear on the screens of 20,000 readers.  Guaranteed!
Now, how many impressions can you reasonably expect from that same publication's print edition with a circulation of 20,000 subscribers?
How many of those 20,000 subscribers will actually see the publication, open the publication and reach the page where your ad appears?
I can promise you it will be a lot fewer than 20,000.
Written by Bob McCarthy
————
If you liked this article, please join my list and get my newsletter.
Learn more about generating leads and measuring performance.  Check out my FREE ebook, "Step by Step Lead Generation and Lead Nurturing."  You can download them for free.
You can also download our FREE Direct Response Tracking & Analysis Chart   This chart be used to track both online and offline advertising.
Learn more about our Print Advertising services.
Learn more about our Online Advertising services.
————
This article may be reprinted without permission as long as the article includes the following credit:
Bob McCarthy is a direct response consultant helping businesses develop measurable marketing programs across multiple marketing channels. You can read his blog, The Direct Response Coach, on his website at www.mccarthyandking.com. Bob can be reached at 508-473-8643 or at bob@mccarthyandking.com
—————
Bob McCarthy is a direct response copywriter and lead generation specialist.
Download his Freelance Copywriting Information Kit.