The Retail Postcard

To request an estimate, scroll down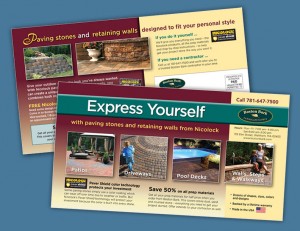 The retail postcard is an excellent direct mail format for retailers and other local businesses because it is simple, direct and relatively inexpensive.
Postcards work for retailers because generally retail promotions are easy to understand.  People know what you're selling with little explanation.
Retail promotions typically use discount promotions or special events to bring customers into the local store.  And then once in the store, to spend money.
The trick is to find ways to get the most store visitors at the lowest cost.

Many shapes and sizes of retail postcards
The retail postcard can be produced in many different sizes and shapes.  It's important to keep a close watch on your dimensions as they will impact your costs to print and mail.
Postcards can be broken down into the following categories – which are based on postage rate categories.
Postcard-Rate Postcards
Postcard-rate postcards are small postcards (between 3-1/2 x 5 inches and 4-1/4 x 6 inches) that are eligible for reduced first class postage.  This is a special rate that only applies to small postcards and small double postcards.
Letter-Rate Postcards
Letter-rate postcards range in size from 4-1/4 x 6 inches up to 6-1/8 x 11-1/2 inches.  These postcards have the same postage rate as a regular letter.
Flat-Rate Postcards
Flat-rate postcards are larger than 6-1/8 x 11-1/2 inches (including a standard 8.5 x 11 inches).  These postcards pay a surcharge in postage – the same that is applied to all flat-rate mailers.
Square Postcards
Square postcards are very popular these days because they are different and more eye-catching.  But you will pay extra postage for these cards as they do not comply with mailing standards.
Odd-Shaped Postcards
Today you can find postcards that can be die cut to almost any shape or form.  You are only limited by your imagination and your printer's ability to die cut.  If you planning these types of cards, check with your post office first.  Chances are you can mail them (although they do say you cannot mail round postcards), but at additional cost.
All postcards must be printed on card stock.  Have your printer check postal regulations if you have any doubts about thickness.

Retail promotions need urgency
The most successful retail promotions are those with a limited time opportunity.   Discounts on their own are not enough to generate meaningful traffic.  What you need are discounts with an obvious deadline.
Events are good because they have a built-in deadline.  End of year, post-holiday and other clearance sales work before they also have an understood deadline (that the good stuff will go first).

Final Note
When designing your postcard, be sure to repeat your offer on the address side of your postcard.  Although the opposite side (message side) gives you more space and design flexibility, the reader always looks at the address side first (if only to check the name and address) so don't waste that opportunity.

To learn more …
Please contact Bob McCarthy at 508-473-8643 or bob@mccarthyandking.com.  Or fill in the form below.