The Self-Mailer Booklet (catalogs, newsletters and conference mailers)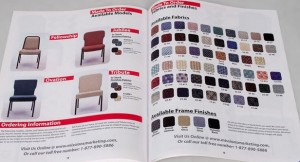 To request an estimate, scroll down
The self-mailer booklet is a very popular format for order generation promotions that require a lot of space on a limited budget.
Typically eight or more pages in length, this format is most commonly used for catalogs in which multiple products are put on display.
The self-mailer booklet is also used to promote conferences, seminars and other types of educational training.
This format gives the marketer the necessary space to deliver the more extensive sales presentation that order generation requires.
The self-mailer booklet would not be a good choice for lead generation or any application that uses low-commitment offers because the extra space would be wasted.

Designing a self-mailer booklet
When designing a self-mailer booklet, give careful thought to the "hot pages" that get the highest readership.  These include the front and back covers, the inside covers and the inside spread (especially when a reply device is stitched into the center of the booklet).
Also, design each page and each 2-page spread as a separate and distinct space.  Self-mailers are not newspapers.  Do not expect that readers will continue from one page to the next.
In some cases, a separate reply form and/or envelope is included in the printing or inserted separately into the binding of the booklet.

Many sizes
The self-mailer booklet comes in many sizes.  The most common size is an 8-1/2 x 11, but you can produce smaller versions to fit into a 6×9 or #10 envelope.  By reducing the finished size, you could reduce postage.
While eight pages is the most common length of a self-mailer booklet, you could have 12 pages, or 16, 20, 24 or more pages.  Any length is allowed.  Some catalogs are much larger.  You just need to keep it in multiples of four.
To qualify for postage automation discounts, this mailer must be sealed with a wafer seal or glue before mailing so that there are no open pages.
In spite of its large size, the self-mailer booklet can be very cost effective to produce.  It is often printed on inexpensive stock, mailed without an envelope and sometimes folded down to letter size for maximum postage discounts.

Order generation offers
Whether you're producing a catalog or some type of conference promotions, the offers used to generate immediate orders are multi-faceted.  In other words, there are many elements to a typical order generation offer.  Changing any one of these elements will effectively change the offer – and most likely, your response rate.
Let's look at a typical order generation offer:
It starts with the product or service being sold – and the price you're charging for that product or service.  These two elements make up the core of the offer.
Obviously, anytime you change the product or service (you add or subtract features, for example), or you change the price, you have dramatically changed the offer.
But there are lesser elements that could also change your offer and your response rate.  Some will have more impact than others.
pricing discounts, combination rates, early bird specials
incentives (premiums with order)
shipping options
payment options (bill me later is a game changer)
response channel options
trials (one week, one month, two months, with or without credit card)
guarantees (30-day, 60-day, lifetime, unconditional, etc)

Self-mailer booklet messaging
The main characteristic of an order generation self-mailer booklet is the length.  They typically require long copy because in order to get people to buy your product or service, you need to answer all of their questions.
An order generation message would lead with a major benefit, but it wouldn't stop there.  You would also need to include every other benefit you could think of to build your case.  Often these benefits would be tied to specific features which helps to substantiate your claims.
At the same time, you will be looking for ways to build your credibility.  This can be done through demonstration, supporting charts, photographs, endorsements and testimonials.  Many lead generation packages will include many testimonials – often with photos and real names.
Finally, the offer itself needs to be presented in detail which also requires space.
Personalizing your self-mailer booklet
At a basic level, you need to personalize an outside panel for postal delivery.  But you can also do more than that.
You can create your cover with digital print and personalize the entire front and back cover.  Depending on how your booklet is being created, you may even be able to personalize the inside spread as well.
Many catalogs also personalize the order form which are either part of a page or created separately and bound into the booklet.

Final note
If you insert a pre-printed reply form and/or envelope into the binding of the booklet, you will likely see an increase in response, but your production costs will also go up.  Give careful thought to how many more orders you will need to offset this cost … and then test.
 
To learn more …
Please contact Bob McCarthy at 508-473-8643 or bob@mccarthyandking.com.  Or fill in the form below