Think System, Not Campaign
Campaigns get you started, but Systems take you to the finish line
For the most part, clients call us for help in creating and managing direct mail, email and/or digital marketing campaigns.  We do everything from strategic planning to copy and design to production supervision.
But we also recommend that those campaigns be implemented as part of a system – more specifically, a Sales Lead System.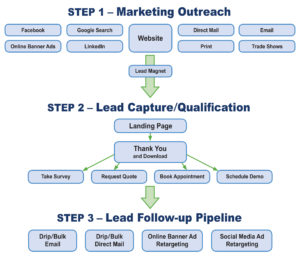 A Sales Lead System can take many forms, but when you get right down to it, it's just three steps
Step 1 – Marketing Outreach
This is the step everyone focuses on – a banner ad campaign, a search campaign, a Facebook campaign, a direct mail campaign or even a content marketing campaign built around your website.
We've listed the most common outreach campaigns.  Chances are you will use two or three of them, but not all of them. Some cost money.  Some cost time.  Some cost both.
The goal, of course, is to generate leads. And we use lead magnets and other downloadable content to incentivize response.
But even after the lead comes in, remember this is just the beginning.
Once you start generating leads, you need to have some mechanisms in place to capture, qualify and manage those leads, and then some automated method to stay in touch with those leads over the long haul.
Step 2 – Lead Capture/Qualification 
Landing pages are common practice today and well known by many marketers.  But do they go far enough?
Most landing pages are actually two pages – a form page and a thank you page.  In many cases, the thank you page is also the download page where the prospect can immediately download the promised content. (Some marketers prefer to hold the downloadable content back until the email has been confirmed.)
For the most part, these two pages do a good job of capturing leads and delivering content – all on auto-pilot.
But is that enough?  Shouldn't we expect from our landing pages?
Understand that these prospects are highly interested and engaged when they are on your landing page – much more so than they will be when you follow up tomorrow. 
You've already captured their contact information.  Why not push for a little more?
We've listed several "next step" options – a survey, an estimate, an appointment, a demo – but you may have other ideas. 
Step 3 – Lead Follow-Up Pipeline
We used to call this step the "back end" of the lead process, but that seems to minimize its importance. 
The fact is your pipeline is vitally important not just for short-term conversions but for long-term branding and later conversions as well.
We approach the follow-up effort with four different types of programs – email, direct mail and retargeting through online ads and social media ads. 
We use a drip email series as a way of introduction by sending four or five emails over a short time immediately after the lead comes in.  And then we stay in touch with multiple "foundational" emails (bulk emails) that are also pre-scheduled.  In addition, fresh emails are periodically created and sent out to the entire list or segments of the list.
Direct mail can also used as way of introduction – perhaps a series of letters or postcards – to help the new prospect better understand the company or the services it offers.
At the same time, we typically prepare banner ads for online retargeting which keeps your ads in front of people who have previously visited your website or landing pages. Retargeting can be used both with online networks (such as the Google Display Network) and with social media (such as Facebook).
Getting Started
We have presented this as Step 1, 2 and 3, but the work actually begins with Step 3.  You want to have your lead nurturing and retargeting programs in place before you start generating leads.
The reason is simple.  You will be spending money to generate leads.  You can't afford to let any of those leads slip through the cracks while you scramble to get your follow-up process in place. 
So we strongly recommend you build your Sales Lead System from the bottom up.
How we can work together
If you need the entire Sales Lead System, great. Let's discuss your plans.
But we understand you may already have some of these pieces in place.  So we're happy to help develop just the pieces you need.
To schedule a call, contact Bob McCarthy at 508-473-8643 or bob@mccarthyandking.com.