Copywriting Services … on Demand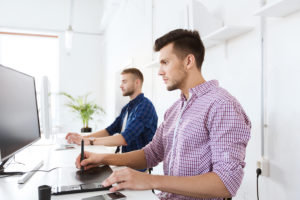 Copywriting is needed now more than ever.
As more and more organizations turn to online and content marketing, the demand for effective copywriting has grown dramatically.
And the projects are piling up – emails, web pages, blog posts, sales (and fundraising) letters, product sheets, direct mail, ads, white papers, case studies and more.
Who's going to write it all?
If you need a copywriter – for a single project or an ongoing relationship – we are here to help.
We've been writing copy – all kinds of copy – for more than 35 years. Check out our Past Clients and Projects
Graphic design also available.
How We Work
It's all pretty straightforward.  You have a project?  Call us and we'll give you a quote.
Then you give us the background or put us in touch with someone who can provide it.  We write the copy, send you a draft and you provide your feedback.  We go back and forth as often as needed until you're satisfied.
Estimates are based the specifications you provide.  If those specifications change, we will also need to change our estimate.
If your project needs graphic design, we'll provide a separate estimate and get the designer involved from the beginning of the project.
Pricing
Email – short form (approx. 500 words)
1-2 Emails – $500 each
3-6 Emails – $450 each
7-10 Emails – $400 each
Email – long form (approx. 800 words)
1-2 Emails – $700 each
3-6 Emails – $650 each
7-10 Emails – $600 each
Email Newsletters
Web Pages
Short Page (1-2 Screen Views) – $500 per page
Long Page (+2 Screen Views) – $750 per page
Landing Pages/Thank You Pages
Short Message – $600
Long Message – $1,000+
Blog Posts – short form (approx. 500 words)
1-2 Posts – $500 each
3-6 Posts – $450 each
7-10 Posts – $400 each
Blog Posts– long form (approx. 800 words)
1-2 Posts – $700 each
3-6 Posts – $650 each
7-10 Posts – $600 each