Headlines and titles serve on the front lines of marketing communications.  If they don't do their job, nothing else matters.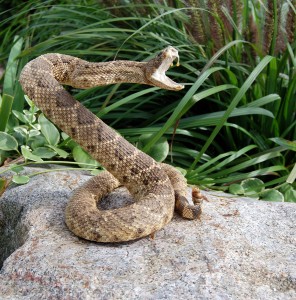 I know.  I know.  "Snakes on a Plane" gives me the creeps too.
Remember when this movie came out?  It was 2005 and as soon as it was released, it became an Internet craze.  People were talking about it everywhere.
Everyone had an opinion about it.  Actually they had one of two opinions about it:
"I've got to see that movie."  or
"I would never see that movie."
No middle ground on this one.
Unfortunately for those involved, the movie came up short of expectations at the box office.  It was quickly dismissed by critics as a Grade B thriller/action movie destined for a lifetime of showing on the Saturday afternoon creature channel.
And producers inexplicably decided to reshoot parts of the movie to qualify for an R rating.  I say inexplicably because the target audience here was made up largely of teenagers.
But don't blame it on the title.   
The title in this case did its job.
"Snakes on a Plane" was the best movie title since "Honey, I Shrunk the Kids."  Now that was another great title.
Why do I like these titles?
Mostly because they describe the movie in just a few words.  When you hear the title, there is no doubt what the movie is about.
Too many movie titles go out of their way to be obscure, mysterious and way too clever.
Sometimes, you only understand the title AFTER you're in the movie theater.
Take this year's Oscar winning movie, "Argo."  A great movie.  But I didn't understand the title until I saw the movie – until I actually bought the ticket.
What if you were just looking at possible movie titles and you didn't know the story ahead of time? Would "Argo" get you interested?  Probably not.
I'm sure the same can be said for "Silver Linings Playbook," another Oscar-nominated movie.  I'm guessing the title will make sense once I see the movie.
Sometimes, a title can fool you completely. 
Many years ago, there was a movie called "The Great Santini."  This was an Academy Award winning film.  Any idea what it was about?
No, it's not about a magician or trapeze artist.  It's about a Marine drill sergeant (named Santini) and his strained relationship with his family.  Who would have guessed?
I could on and on – movie after movie – with titles that just don't make sense from a sales and marketing standpoint.
But I don't think the movie studios care.  I'm sure they do research on this – focus groups, recall studies and the like.
But it's not a priority for them.  They see their trailers, advertising promotion, critical reviews and word of mouth as their ticket to success.  And they're probably right – at least in the beginning.
But what about later? 
Let's assume your movie didn't win the Academy Award – and is no longer being promoted and even mentioned in the media. Your movie is now long forgotten by the public and your DVD is sitting in a Redbox kiosk along with hundreds of other titles.
What will get people to pick your movie over all the others?  What will get their attention?
Can you afford to have a title that only makes sense after they see the movie?
Now, back to the real world …
How does this translate to your marketing challenges?
It means you need to spend more time and effort developing (and testing) titles within your own business. Specifically, I am referring to your:
product and service names
whitepaper and ebook titles
email subject lines
direct mail envelope copy
advertising headlines
web page headlines
article/blog post headlines
As you develop these titles and headlines, ask yourself:
Can they stand alone and convey your message without any other support material?
Do they tap into a compelling need or interest of your target audience?
Will they get the attention of your audience?
The importance of testing.
Good titles and headlines can make all the difference in the world.  But sometimes your intuitive sense of what is good won't be enough.  Sometimes you need to let your audience decide.
That's why we recommend testing different versions of your headlines or titles.
If you're writing a whitepaper or ebook, develop an alternative title and see which one generates more response
If you're creating an ad, develop two headlines and test them in an A/B split.
If you're creating direct mail, keep all the inserts the same, but test two different envelopes.
If you're creating an email campaign, test several subject lines on a small segment of your list, before rolling out to the full list with the winning subject line.
Don't think for a minute that you always know what works.  If you do enough testing, I guarantee you'll be surprised.
Written by Bob McCarthy
This article may be reprinted without permission as long as the article includes the following credit:
Bob McCarthy is a direct response consultant helping businesses develop measurable marketing programs across multiple marketing channels. You can read his blog, The Direct Response Coach, on his website at www.mccarthyandking.com. Bob can be reached at 508-473-8643 or at bob@mccarthyandking.com