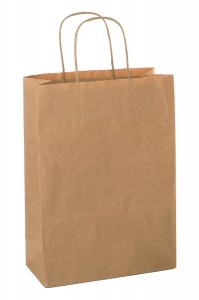 Several years ago, Ace Hardware ran a one-day sale that allowed customers to fill up a paper bag and take 20% off on all items in the bag.
We've seen these direct mail ideas before. Ace Hardware sent out large paper grocery bags and invited customers to come and fill up their bag for a discount. I can't remember if they were mailed or sent by newspaper inserts. It doesn't matter.  The paper bag was used as both the promotion piece and the reply device.

What intrigues me about this promotion is that the offer itself – the 20% discount – is rather ho-hum.

If Ace Hardware had simply announced a 20%-off sale, it would hardly get noticed. Every day in the newspaper we see sales of 20%, 30%, even 50% or more off.

So why does this 20% offer get our attention?

It's because of the presentation. The paper bag made the 20% discount more real, more tangible and certainly more noticeable to the reader.

Marketers are always looking for new and better ways to present their offers and sometimes they come up with winners. I'm sure you're familiar the "Buy One-Get One FREE" offer (better known as BOGO).

Think about it, this offer could also be presented as "Half Price When You Buy Two" or "50% Off When You Buy Two."  They all say the same thing.  They are in fact he same offers; they are just presented differently.

Most importantly, they are perceived differently by your audience which means they will generate very different responses.  This is where testing can really help.

An intuitive sense of urgency

I think the real strength to the paper bag promotion was the implied sense of urgency.  

With your bag in hand, you have an intuitive understanding of limitation which creates urgency.

You are motivated to buy more because do not want to walk out of that store with an unfilled bag.

Amazing, the power of the paper bag.
———-
Written by Bob McCarthy
This is updated post from 2009.
This article may be reprinted without permission as long as the article includes the following credit: Bob McCarthy is a freelance copywriter and consultant specializing in direct marketing and lead generation. His website is www.mccarthyandking.com. He can be reached at 508-473-8643 or by email at bob@mccarthyandking.com