Direct Mail – Lead Generation Mailers

When you need more leads, better leads …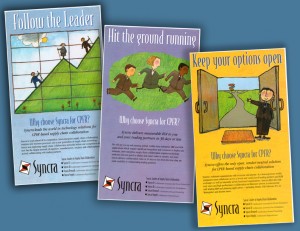 Direct mail can be used for many purposes, but the most common purpose is lead generation. We create lead generation mailers.
Lead generation is a marketing campaign designed to get your target audience to identify themselves as interested prospects. This allows your sales people to focus their time on real leads instead of the entire audience.
We can help improve your lead generation program in several ways:
with more leads (higher response rates)
with better leads (higher conversion rates)
with more consistent lead flow (matched to your sales needs)
Choose a lead generation mailer format

Letter mailers
Postcard mailers
Self-mailers
Survey mailers
Dimensional mailers

Start with a sales lead magnet

Before you begin developing your lead generation mailer, you will need to find or develop an offer. While some offers could be a company brochure or information kit, the best offers in terms of generating response are what we a lead magnet.

A lead magnet is an informational/educational brochure, booklet or white paper designed to provide prospects with useful advice. It is not a sales brochure.

Lead magnets work as lead generation offers because they help to identify people who have a specific interest or are dealing with a specific problem. Not every response will be a serious prospect of course. Some will just want the lead magnet, but many others will be interested in what you sell.


Add a landing page

With any direct mail campaign, you want to give prospects an easy way to respond. The easier the process, the more responses you can expect.

A landing page is a dedicated web page that is focused on your direct mail offer or lead magnet. It is also a page that contains a signup form which is required to acquire the offer.

Of course with direct mail, you can also allow prospects to respond by reply mail, phone or fax.


Provide an immediate download

When prospects visit your landing page, they expect to be able to download the information you promised right away. This can be arranged so that you can confirm the email before providing access to the information.


Follow up with drip email


Most prospects who respond to your direct mail campaign will not be ready to buy right away. It may take several days, weeks, months or even a year or more before they are ready.

That's why it's so important to stay in touch – so that you are always "top of mind."

The best way to stay in touch with your leads is with email – either an email newsletter or an email drip campaign.

Our creative services package

Review sales needs and sales resources

Identify/recommend possible lead magnets

If needed, create a lead magnet

Select appropriate mailer format

Develop central message for target audience

Create initial design with headlines

Write complete copy

Revise copy and layout

Deliver finished art to client or printer


We also offer ..

List research and list acquisition

Printing, personalization and mailing services

Landing page creation and hosting

Automated drip email series for follow up

Learn more or request an estimate
To learn more about lead generation mailers, contact Bob McCarthy at 508-473-8643 or bob@mccarthyandking.com.
Or fill out the form at right and we'll reach out to you.
>>>Also see Choose a Direct Mail Format