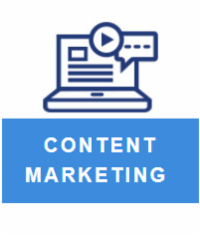 For the most part, websites are used to showcase a company for its products and/or services.
The goal has always been to impress, explain, demonstrate, persuade and, ultimately, to sell.
But that shouldn't be the end of it.
With the right strategy and mindset, your website also has the potential for serving your target community … for providing guidance, education and insight on the topics that are important to your current and future customers.
It can be a place where your community goes to find answers to their most important industry questions.
When your website becomes a repository of useful information, it gets noticed.
It gets noticed by your customers and prospects – and by the search engines, most notably Google.
This results in higher search rankings, more website traffic and ultimately, more leads and sales.
All because you decided to use your website to teach more than sell.
How do you get there?
With content. Lots of content. Relevant, informative, non-selling content.
Content is the essence of inbound marketing.
You can put aside all the talk about SEO, keywords and backlinks. Okay, they're important.
But more than anything else, content is what drives the inbound engine.
Of course, creating new content that is relevant and useful to your target audience is hard work requiring a consistent investment of time and/or money.
Some companies are dedicated to creating new content every day, or every week or every month.
But not every company can or wants to do that.
So what then?
You can create evergreen content – meaning content that doesn't get old or outdated. Content that is created once and then used over and over again.
Things like case studies, customer interviews, executive interviews, lead magnets, drip email, evergreen email, Q&A videos, explanatory videos, "ultimate guide" web pages, industry application profiles, automated webinars.
I'm just touching the surface here.
There are many things you could create today that will have long-lasting impact on your website and the people who visit it.
The list of potential projects may seem daunting, but if you are willing to commit to this effort, in time, your website could become a go-to resource on the subject matter you know so well.
Start your to-do list today!
A Quick Word About Us
We create lead generation campaigns using Direct Marketing or Digital Marketing – and very often a combination of the two, which we describe as Digital Direct Mail.
Our campaigns include both Outbound Marketing (direct mail, cold email, phone) and Inbound Marketing (SEO, PPC, Local Search) as well as Lead Nurturing funnel activities.
If lead generation is in your plans, we invite you to download our FREE Guide, The Lead Generation Blueprint. Or click here to schedule an Exploratory Phone Call.