Get the book
– it's FREE
And learn how to market your kitchen and bath
business – both online and offline.
Kitchen and Bath Marketing – generating leads, sales and referrals
Looking for help with your advertising and marketing?  Let us step in as your "marketing director" and together, we will jumpstart your kitchen & bath marketing program.
We don't focus on individual marketing activities.  We focus on solutions and we help you develop a system that uses the best of online and traditional offline marketing to produce leads, sales and referrals.  And we're going to help you measure everything you do.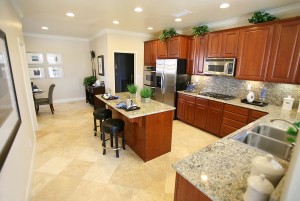 Measurable Marketing Programs for Distributors, Dealers and Designers

Request a FREE 30-minute Strategy Session

Bring the best of traditional and online marketing to your business
Print Advertising
Newspaper and magazine advertising is still an important outreach channel for kitchen and bath dealers.  But so much advertising is still brand advertising with no call to action and no measurement.  We would like to help you implement a direct response print ad campaign that generates leads and can be tracked back to every media placement.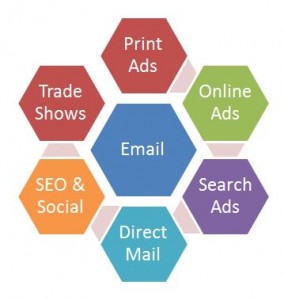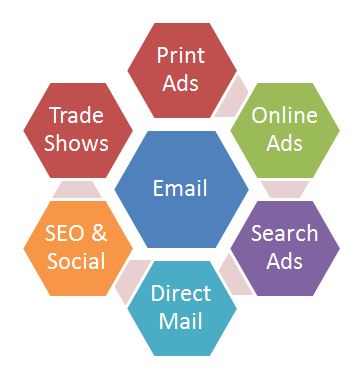 Online Advertising
Online advertising is a growing opportunity for kitchen and bath businesses.  Most newspaper and magazines offer an online version of their publication where you can advertise normally at much lower rates than the print edition.  Some of these online properties can also guarantee you a fixed number of ad impressions.  Another opportunity can be found in the Google Adwords Display Network where you can target specific websites, blogs and news sites in your target market.
Search Advertising (Google Adwords)
It used to be the Yellow Pages, but now when people need to find a local business, they turn to Google and other search engines.  You can put your message in front of these searchers by advertising in Google Adwords Search Network.  Target by keywords and location and pay only when someone clicks on your ad.
Direct Mail
You won't find a better way to target your best prospects than direct mail.  Using postcards and other formats, we can help you reach "new homeowners" and "homeowners based on income or other demographics."  We can also set up a direct mail campaign to generate referrals from past customers and your professional network.
Websites
Everyone needs a website – and almost everyone has one.  But does your website generate leads for you?  Is your website able to be found through search?  Have you integrated your website content with social media?  Most importantly, can you edit your own website?  These are issues we can help you address.
SEO/Local Search/Social Media
Websites are only as good as the traffic it gets.  Search engine optimization (SEO) is one of the tools we use to generate "organic" traffic, or free traffic, to your website.  Local search is the process for getting found in searches by people in your local target market – in some cases, showing up on a Google map.  Social media helps to spread the message through sharing and to create additional links back to your website.
Trade Shows
Local trade shows and home shows continue to be an important avenue for many kitchen and bath businesses.  But much like advertising and direct mail, you need to be able to substantiate the effectiveness of your trade show marketing.  When you measure your leads and sales against your trade show investment, you will begin to see where to exhibit in the future.
Email
Unlike the other activities above which are intended to generate new leads, email is best used to follow-up and stay in touch with your leads as well as your past customers and other professionals.  We can help you set up an email system, create the emails and get them out on a timely basis.  We can also schedule your emails in advance so you there won't be any lapses in your contact strategy.


Get smarter about your advertising and marketing with response tracking
There is no need to stay in the dark when it comes to advertising and marketing performance.   You should be able to track the source of virtually every new lead that comes to you.  And when you do, you will begin to see which marketing activities are most productive for you.
You can track your responses that come to you online, by phone and as walk-ins.
For online responses, dedicated landing pages are used for each ad promotion.  For phone responses, dedicated phone numbers are put in place to track incoming calls.  For walk-in responses, prospects are asked to bring in their promotion.
This response data will be invaluable to you in your decision making moving forward.
Follow your leads after they come into your system
Sales people are only human so it shouldn't surprise anyone when stale leads start to fall through the cracks as your sales team chases after the hottest new leads.  But lost leads can mean lost sales and a lost investment.
You need  a way to stay in touch and monitor your sales follow-up system – regardless of what your sales people do.
Short-Term Lead Nurturing – immediately after leads come in, they are put on a schedule for a series of emails designed to quick build your relationship with them.  You set the schedule and approval the emails.  Everything else is on auto-pilot.
Advanced Lead Nurturing and Tracking – here you can take your lead follow-up to another level.  You can create separate lead nurturing tracks for different product categories or different stages in the sales process.    You can also monitor your prior leads when they return to your website
Long-Term Lead Follow-up – not every lead will convert immediately.  Some may takes weeks, months or longer to get serious about buying.  With a long term strategy for connecting by email and mail, you can stay "top of mind" until they are ready to buy.

Try it, use it, cancel at any time
This is a highly flexible, risk-free program that puts you in complete control.  Choose whatever programs make sense for you.  Then leave it to us to set up the program, create all the materials, manage the implementation and monitor the response.
Together, we'll work as a team.  We'll make a lot of recommendations, but the decision will always be up to you.
Work with us as long as you feel like you're getting value.   If we come up short of your expectations, you can cancel our relationship at any time without penalty.
Learn more about our marketing programs
To learn more, request a FREE 30-minute Marketing Strategy Session or download our FREE K&B Marketing Handbook.  Or contact Bob McCarthy at 508-473-8643 or bob@mccarthyandking.com.
Read Bob McCarthy's article in
Kitchen + Bath Business (K+BB) Collective
Referral Marketing:  Six Steps to Building a Referral Network