Download our FREE ebook, "Making Snail Mail Work:13 Lessons in Direct Mail Strategy." See below
************************************************************************************************************************
Let me show you how to make direct mail marketing work for your business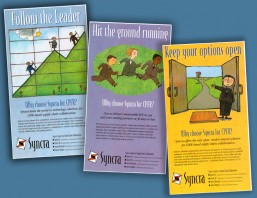 McCarthy & King Marketing offers complete direct mail marketing solutions – strategy, execution, analysis and follow-up – through a variety of service options.
We combine proven direct response techniques and methodologies with professional-level creative and production to meet our clients' sales objectives and maximize both response quantity and quality.
Since 1984, we've been developing full-service direct marketing projects and programs on behalf of dozens of business clients.
But not all direct marketing solutions are right for every business.  Before you begin, you need to find the right application.
For example, you can use direct marketing to:
generate sales leads (lead generation)
sell direct (order generation)
increase website traffic
find new retail customers
build brand awareness
solicit donations (fundraising)
[break]
Letter mailers, self-mailers, postcards and more
Selecting the right format for your direct marketing program is not about your personal preferences.
You may personally like postcards over letter mailers, but what is going to work for your business?
There are many factors that go into choosing a format, such as your product/service, your offer, you audience, your direct marketing application and your budget.
We can walk you through this process to help select a format that matches your needs.
[break]
Complete programs, consulting, copywriting, creative or coaching
We give you options.
We provide a comprehensive direct marketing solutions that includes everything you need – list research, offer strategy, message development, format selection, creative concepts and development, printing, personalization, mailing services and follow-up strategy.
But if you prefer to do some of these things in-house, that's not a problem.  We can provide you with consulting or copy and creative services – and leave the rest to you.
We also offer one-on-one coaching calls – both by phone and in person – if you're just looking for a little guidance.
[break]
Back-end support completes the cycle
You program doesn't end when your mailing gets delivered to the post office.
You also need to think about capturing and nurturing you leads.
We provide complete back-end support with landing pages (including pURLs), automated lead processing and fulfillment, and lead nurturing emails.
***************************
If you'd like to start planning a direct marketing program for your business, let's talk.  Call me or send me an email.
Bob McCarthy
508-473-8643
bob@mccarthyandking.com
To download Making Snail Mail Work: 13 Lessons in Direct Mail Strategy,
please fill in the form below.