Retail Direct Mail – Direct Mail Campaigns for Retail Stores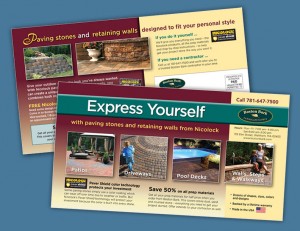 Looking for help with retail direct mail?  We'll help you create your mailer, find your list and get your mail out the door.
With all the marketing options available to you today, direct mail is still a powerhouse for the retail sector.
Nothing beats getting a postcard, letter or self-mailer delivered into the homes of people in your neighborhood – the people most likely to buy from you.
But there are some best practices you should know and some pitfalls you should avoid.  See below.
Choosing your mailer
In direct mail, you have a number of options that can work for you.
Postcards

The postcard is the most popular format today.  Its simplicity makes it the most affordable of all the formats.  But not all postcards are the same. Smaller postcards can save you on postage.  Larger postcards can give you more exposure without incurring postage surcharges.

Self-Mailers

Self-Mailers are folded cards – often with three panels (two folds).  Typical size would be 18 x 9 inches flat, 6 x 9 folded, but it can be almost any size.  Self-mailers allow you to tell more of your story than a postcard.

Letter Packages

There may be times when a personal letter makes more sense than a graphic postcard or self-mailer.  Invitations, for example, look more personal when they come in a letter package.  In fact, a letter is preferred any time you want to convey a serious and/or personal tone.

Large Formats

Some retailers may want to promote multiple products which is best conveyed through a larger format such as a booklet or catalog.

Every Door Direct Mail Formats

Every Door Direct Mail (EDDM) is a program developed by the US Postal Service that makes direct mail simpler and less expensive.  EDDM is a good choice if you want to reach every household in your market area.  But to comply with EDDM, you will need to develop larger format postcards or self-mailers than regular mail.

Let's talk about your direct mail plans.

Complete this form and we'll be in touch.
How many mailers to print
Generally, the quantity you print is based on the size of your list and your budget.  Before you print, it's always a good idea to finalize your list quantities first, and then order a little more than that amount.
But if you are planning multiple mailings over time, you may want to do a larger print run up front to cover all of your mailings, then just mail what you need and store the rest.  Printing costs drop dramatically with higher quantities so this is a good strategy to make the most of your budget.
If you are using Every Door Direct Mail, you will need to print a special indicia on the mailers – so plan ahead.
Finding a mailing list
Many retailers use mailing lists that reach every household in their neighborhood. You can select your lists by zip code, by carrier route(within a zip code) or by a radius from the store location.
In some cases, you may prefer to be more selective with your mailing lists.  For example, you may want to reach all homeowners, or all single-family home households, or households of a certain income, age, family size, pet ownership and many other demographic options.
On a much smaller scale, you might want to try new resident or new homeowner lists. These lists are produced every month – and will typically generate only a small amount of new names every month.  Still these are hot prospects for retailers and well worth your attention.
If you're using Every Door Direct Mail, there is no list required.  Mailers are generically addressed and delivered to every home in a carrier route sequence.
Getting your mail out the door
After your mailers are printed, they will need to be addressed and processed for bulk mailing before going to the post office.
A professional mail house will first run your list against the NCOA database for accuracy and updating, then will personally address each piece, affix postage (if needed), achieve postage discounts with bar codes and presorts, and deliver to the post office.
Local mailings often take no more than  a couple of days for delivery.
You can always mail them yourself – and for small quantities, you should – but you can save a lot of money on postage if you use a professional mail house for your mailing.
If you are using Every Door Direct Mail, you can do it yourself but it's time consuming and a little complicated (the first time).  A mail house can handle this process for you at a reasonable cost.
Generating a response
Obviously, the goal is to generate a response – to bring people into your store.  For that you need an offer.
Retail offers are typically store sales, discount coupons for selected products or giveaways for certain levels of purchasing.  There are so many ways to structure your offer, but keep this in mind.
Your offer needs to:
be easy to understand
show prominently on your mailer
be connected with an event or have a deadline
have enough value (or perceived value) to motivate people
Give careful thought to what you're offering and how you're presenting it.  For example, think about whether to present a discount by a percentage or an actual dollar amount.
Clearly, your response will be driven by the value of your offer.  But don't give away more than you need.  And don't give high-value discounts to people who are already coming to your store and paying full price  Use your mail to bring in new customers.  You can always reward existing customers in other ways with a loyalty program.
Of course, not all offers have to be financial incentives.  Some offers be designed simply to get people into your store. For example, a home supply store offering free workshops for do-it-yourselfers, or a landscape supply store offering how-to seminars on landscaping.   Even a good old-fashioned Open House with food and entertainment can work as a retail offer.
Measuring response
In the end, you want to know if your mailing worked – or at least how many new customers it brought it in.
One way to do that is to require customers to bring in their mailer (or at least a tear off portion of it) to receive the discount or receive the gift.  Ideally, the returned mailer (or portion) will also have the customer's name and address on it.
Not everyone will remember to bring the mailer with them so it's not perfect but it will give a good sense of performance.
By the way, if someone tells you they forgot their mailer, honor the offer and give them the discount.  And make a note to add that customer to your tally of responses.
In some cases, you might want your customers to call you location to place an order, or to visit your website to place an order or download a coupon.   For this, you will want to track phone calls and website visits to see which calls and visits resulted from your mailer.
For phone calls, the best solution is to use a call tracking service that will assign a different phone number that gets redirected to your office.  This is the most accurate method.  If that's not an option, then add an extension number to your main number that identifies callers from your mailer.  The least accurate method (although still better than doing nothing) is to ask people where they heard about you.
For website visitors, you want to create a unique page (a landing page) where all visitors from your mailing will go.  This page should focus on products/services mentioned in the mailer and should specifically mention the offer that brought them to the page.  In many cases, you would clone an existing page on your website.  A third party landing page service is also a good option.If you are expecting people to place an order your page, you will need to have an order capability.  If you only want someone to download a coupon or other item, you will still need a form for visitors to fill out.
Specialized forms of retail direct mail
Variable Data Printing
You may occasionally receive mailers with your name printed into a graphic on the mailer.  Or you may have noticed that your name appears multiple times in mailer.  This is called variable data printing and it allows you to send out customized mailers for individuals or groups within your mailing list.
Variable data printing – which combines your mailing list with digital printing – can be highly personalized (as described above), or customized to a particular group.  For example, you can change the photo on your mailer to fit the profile of your audience – so an older household would have a photo of an older couple, a young family household would have a photo of a young family, etc.
Variable data printing adds to your costs, but will definitely have a greater impact on your audience.
Learn more about our retail direct mail marketing services
If you have a question, want to discuss a project or would like a proposal, contact Bob McCarthy at 508-473-8643 or bob@mccarthyandking.com.