Integrated Marketing Programs – multi-channel, multi-tactic
McCarthy & King Marketing creates and implements integrated marketing programs for business and non-profits.  Our programs are designed to introduce direct response strategy and creative to all marketing – both online and offline – as well as each contact point in sales process.    

Marketing for the sales process
Most organizations can't afford to rely on a single marketing activity.
They integrate a mix of marketing activities to support various stages in the sales process.
This might include direct mail, advertising, search marketing or public speaking to generate the initial leads, then the website or landing pages to convert those leads, followed up by a lead nurturing program using email, phone and personal selling.
Our integrated marketing program makes it work together and makes it all measurable.
Cross-channel integrated marketing
McCarthy & King Marketing uses direct response creative and measurable marketing strategies with a variety of marketing channels.
Using your website as the centerpiece, we develop a comprehensive program that utilizes a combination of marketing activities – all of which feed into the website.  These marketing activities may include:
direct mail
email marketing
print advertising
online advertising
search advertising
landing pages
Which activities you use will depend on your organization, but we can help you bring them together into one cohesive sales process.
One Response Funnel – many marketing channels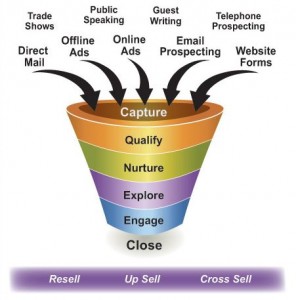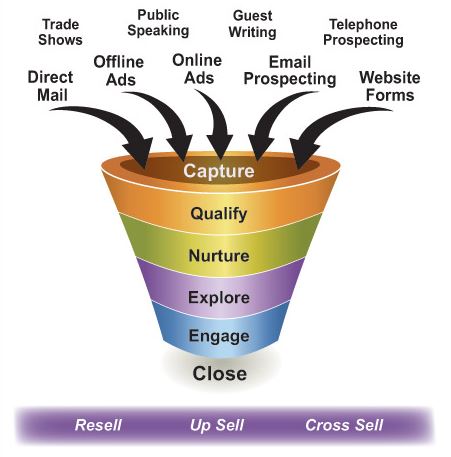 No matter how many marketing channels you are using, you want to bring all of your leads into one Response Funnel.
Your Response Funnel should capture, qualify and process your leads – automatically.
And each lead should be tracked to its source and analyzed on a cost-per-lead basis.
Strategy

and

execution
Integrated Measurable Marketing is a practical, hands-on service that combines strategic planning with the actual execution of those plans.
As an initial phase, we will help you map out a marketing plan that fits with your sales operation.  We will develop strategies, budgets and measurement criteria for each step in your sales process.
But our work doesn't end there.  We will work with you to implement every one of your marketing activities.  We will bring in our team of graphic designers, web specialists, video producers, printers and others to get your projects out the door.
If you are already working with some service providers, that's okay.  We can work them too.
New programs and program modifications
We can work with you whether you are starting a new marketing program or looking for ways to improve your existing program.
If it's a new program, we believe in taking a walk-before-you-run approach to be sure we are heading the right direction.   We like to test various marketing activities and components before we have you invest too much.
If you have an existing program, we will use your current program results as our benchmark for comparison.  We will then plan and develop new programs to be measured against what you are currently doing.
Marketing objectives
Our integreated marketing programs can help you achieve a number of marketing objectives.  We can help you:
introduce tracking and measuring strategies for all marketing activities
determine most effective current activities, media, offers, formats and creative
recommend adjustments to current program to improve results
generate leads at desired quantity or quality levels
acquire leads and customers at a desired cost-per levels
develop a consistent and persuasive lead nurturing program
improve organization, messaging and overall image of website
introduce lead capture strategies for website
collect data about customers and prospects with surveys
develop strategies for each step in the sales process
enhance reputation as thought leader through speaking and writing
Services provided
strategic planning
copywriting & graphic design
list & media planning
direct mail planning & execution
email planning & execution
website development & modifications
online marketing strategy
SEO planning & execution
search advertising (pay per click)
print advertising planning & execution
marketing survey development
public relations
trade show lead generation support
What you can expect
With our integrated marketing programs, you can expect the following:
Improved performance – with every project we implement, our goal is to improve results – both your results and ours.  Even when programs are successful, we continue to tweak different elements to achieve ever better results.
Greater consistency –  we don't like one-hit wonders.  When we find something that works, we look for ways to repeat those results over an extended period.
More accountability – marketing requires an investment and you expect a return on that investment.  We believe you can track and measure response from every marketing activity.
Get started or learn more
So what's your next step?  If you're close to making a move, we'd love to talk.  Call Bob McCarthy at 508-473-8643 or send him an email at bob@mccarthyandking.com.
If you're not there yet, let's stay in touch.  Please join our mailing list and get all of our updates and articles.
Of course, if you have any questions, please don't hesitate to call.