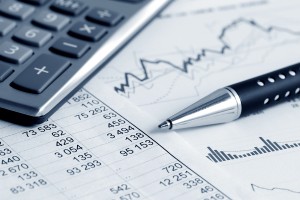 It goes without saying that before you begin to use direct mail, you need to know your numbers – specifically, the direct mail break even point.
For all the attention you want to give to list selection, format choice and creative approaches, you need to know:
your gross profit margin – how much you will make on each sale after your development costs.
your cost per piece mailed – how much it will cost you to print and mail on a per-piece basis.
your response rate – or at least a likely range of response rates.
Why?
To see if you are likely to make any money on the forthcoming direct mail campaign.  Or at the very least to see where the direct mail break even point will be.
In short, you need to know if this direct mail campaign will work for you. Or more to the point, what it will take to make direct mail work for you.
Direct mail isn't for everyone.
As a rule, low-cost products (with small margins) are not well suited for direct mail unless you have additional products to sell down the road.
As the chart below indicates, the low margins too often come up short of the marketing investment.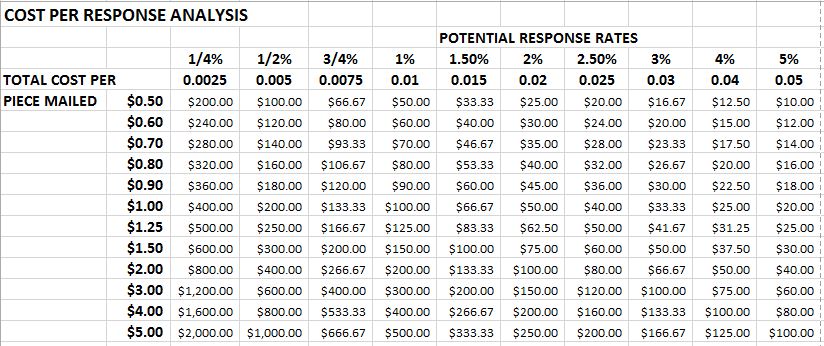 Download as pdf:  direct-mail-break-even-analysis-chart
About this chart
1. This "cost per lead" chart shows you what it will cost you to generate a single lead based on the cost of your  your direct mail piece and your response rate.
2. Your "cost per piece mailed" should include all variable costs such as the mailing list, printing, addressing, mailing
services and postage.  You may also want to include creative costs, but often those costs can be applied across
multiple campaigns.
3. Most mailings will cost between 60 cents and $1.00.  Under certain conditions, you can get it down to around 50 cents.  Higher unit costs are more likely with larger formats and/or smaller quantities.
4. Response rates for most lead generation campaigns are 1-3%.  Response rates for order generation campaigns
(direct one-step selling) typically fall below 1%.  Response rates above 2% are rare, but possible.
Lead generation mailers take note
If you are using this for lead generation, remember this is just the first step in your calculation because only a certain percentage of your leads will become customers.   For example, if you convert 25% of your leads into sales, you would need to multiply your "cost per response" by 4.
Let's say your cost per response is $70 and you have a 25% conversion rate.  Then your cost per order would be $280.  Are you able to make a profit with a cost per order (or customer acquisition cost) of $280?
What if your numbers come up short?
If you're not making a profit on this mailing and this is your only product with no opportunities for repeat business, you're in trouble.
But if this is just the first of many sales opportunities with this customer, you shouldn't worry about the break-even point of this one mailing.
Direct mail success takes a long-term customer view.  So even if your front-end customer acquisition costs are high, you know you will make that cost up – and more – over time.
You will begin to see your customers' worth not by this initial sale, but by their lifetime value.