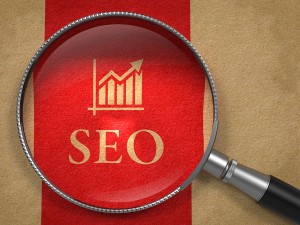 You may have thought SEO was only achievable by the most sophisticated online marketers.  But in fact, small business SEO is very much a possibility.
————–
Like many small business owners, I never took search engine optimization (SEO) very seriously.
It wasn't that I didn't think SEO was important.  I knew it was.
SEO has virtually replaced the Yellow Pages. That's pretty significant.
It's just that the learning curve seemed too steep.  Too many technical challenges.  Couldn't see the payback.
If there was a payback, it would be long-term.  Months or years.
When it comes to marketing and sales, I don't have that kind of patience.   I still don't.
But then one day, I checked my Google Analytics account …
and I noticed that some of my web pages – a few individual pages – were getting an unusual amount of visitor traffic.
(If you're not familiar with Google Analytics, it is a free account that connects to your website and shows you everything you want to know about your website activity.)
With one of the reports, you can see a list of all of your individual web pages in order of popularity – determined by how many visitors they get.  With most websites, the home page gets the most traffic.
What really caught my eye was one page – a tutorial page I wrote in 2011 on direct mail response rates – that was bringing me five times more visitors than any other page on my website, including my home page.  Five times.
The long-tail search phrase
So I did a quick Google search using the keyword phrase associated with that page (direct mail response rates) and sure enough I was showing up Number 1.  Not just Page 1, but Number 1.
"Direct mail response rates" is considered a long-tail keyword phrase, and apparently a fairly popular one.
Why Google chose my page is hard to say, but I do know this:  Google rewards pages that are full of useful content and that's what I try to provide with all my web pages.
What I do with every post
Although I don't spend a lot of time on SEO, I do have a process.  Here is my approach:
1. I write a blog post or a tutorial on a topic related to my business and what I think my audience might want to read.
2. I identify a keyword phrase that is related to this topic and I make sure I sprinkle that phrase throughout the post and on the meta information on my dashboard.  I use Yoast SEO to help me stay focused on the keyword phrase.
3. I send my post out to my readers on my email list.
4. I share excerpts of my post on social media (primarily LinkedIn and Twitter) with links back to the full post on my website or blog.
5. I use my free eBooks on my website to convert visitors into leads.
I do this with every post, but not every post gets the same SEO traction.  Most get some traffic, however.
A steady flow of visits
The best part if SEO is that the traffic is free.  (Yes, a lot of time, but no cash).  My old posts continue to bring in a consistent flow of visitors to my website – every day, every week all year long.  And every new post I write has the potential for being another winner.
I realize getting ranked for a long-tail keyword phrase is not the highest achievement, but it definitely got me excited.
And it has motivated me to build out more pages around other long-tail keyword phrases that are related to my business.
Turning visitors into leads
Getting traffic to your site is exciting, but you also need to do something with that traffic once they get to your site.
Effective SEO is a two-part strategy.  The first part brings visitors to your website; the second part coverts those visitors into leads.
But you must have both parts in place, but do the second part first.
You don't want to start generating traffic to your website until you have a process for converting that traffic into leads.
————
Need help with your own small business SEO?  
Let me show you how my process can work for you too.  Contact me at 508-473-8643 or bob@mccarthyandking.com for a FREE consultation.